The ruling elite
The authorities step up repressions before Freedom Day; law enforcement focuses on persecuting middle managers for corruption
The situation has gotten better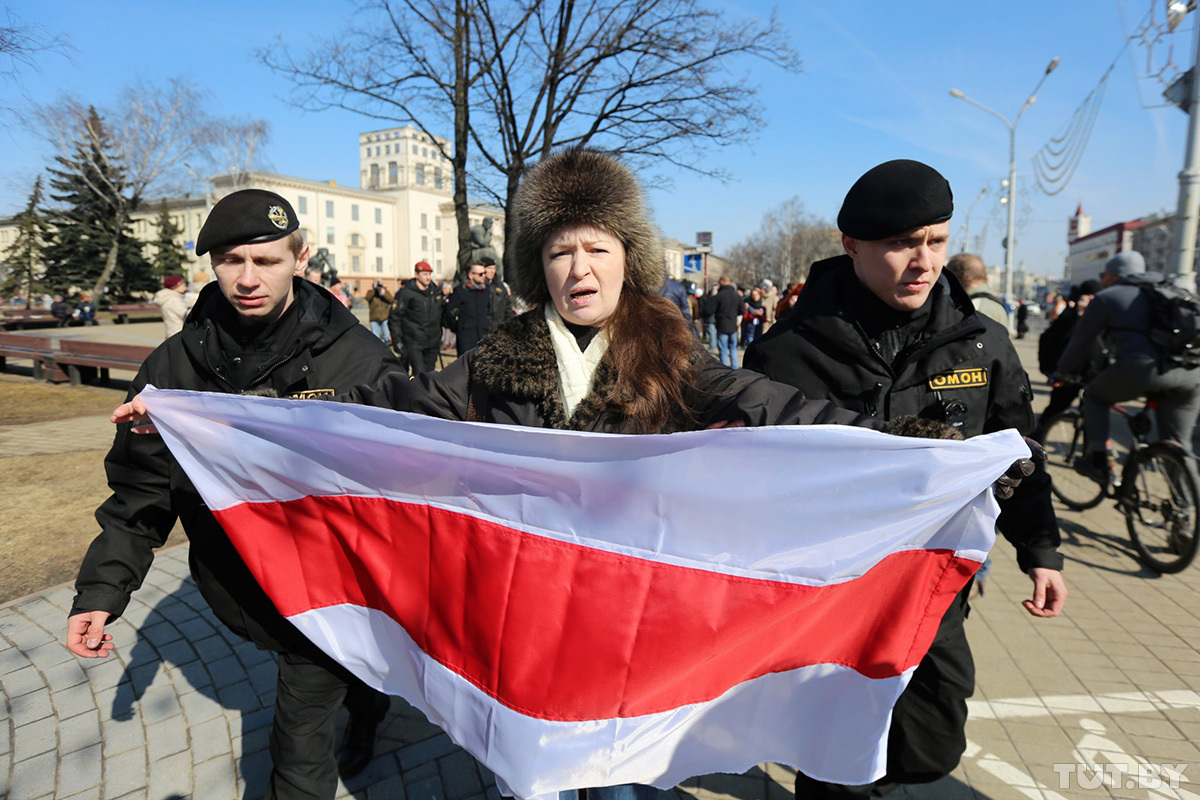 The Belarusian leadership has different views on Freedom Day celebrations than the national democrats. The authorities have stepped up repression and preventively detained not only protest leaders but also human rights activists and organisers of the authorised rally, however, in the evening of March 25th, all detained were released. Law enforcement has focused on persecuting low and mid-level bureaucrats for corruption, after massive staff rotations among local authorities in 2017-2018.
President Lukashenka made some critical remarks regarding the commemoration of the Belarusian People's Republic's 100th Anniversary, which, could be due to the fear of a major success of the celebrations. Apart from his fears to lose the dominance on the domestic political field, the president could be somewhat troubled by pro-Kremlin reactionaries' response and criticism by Russian World supporters inside Belarus should celebrations turn out to be a success and gather many participants.
Law enforcement has attempted to lower the participation in the festive concert on Freedom Day and to prevent a protest action in the capital by preventively detaining some opposition activists. In addition, the Minsk city authorities have not authorised a march in Minsk on March 25th and arrested some street leaders, which raised confrontational sentiment in the protest movement and disappointed supporters of the dialogue with the authorities. Moreover, ideologists used an administrative resource to prevent the participation of students in festive or protest events on March 25th. Local authorities have been more cooperative in coordinating festive events on Freedom Day, which could be due to the desire to reduce participants in protests and celebrations in Minsk.
Law enforcement continued to persecute mid-level managers for corruption. That said, bribes in question were relatively small – from several hundred to several tens of thousands of US Dollars. However, anti-corruption cases in some public sectors have increased severalfold, which was probably connected with the redistribution of influence and ties in the nomenclature. For example, according to the Prosecutor General's Office, in 2017 there were 82 corruption cases in the Belarusian Railway as compared with 8 cases in 2016.
So far, the Belarusian leadership has avoided anti-corruption pressure on regional and local leadership. This is most likely due to a massive staff rotation held in 2017-2018 when about 35% of district executive heads were replaced.
Overall, inconsistent actions and statements by the authorities on the occasion of Freedom Day celebrations were prompted by their desire to support celebrations on the one hand and to prevent criticism by supporters of the Russian World, on the other. The authorities are forced to widen the framework for the national-democrats' activity to weaken the protest movement and to counter-balance the pro-Kremlin propaganda.
You have been successfully subscribed
Subscribe to our newsletter
Once a week, in coordination with a group of prominent Belarusian analysts, we provide analytical commentaries on the most topical and relevant issues, including the behind-the-scenes processes occurring in Belarus. These commentaries are available in Belarusian, Russian, and English.
EN
BE/RU
Situation in Belarus
September 25 – October 1