Society and political parties
Society has self-organized to initiate the recall of MPs whilst independent trade unions gain new members
The situation has gotten better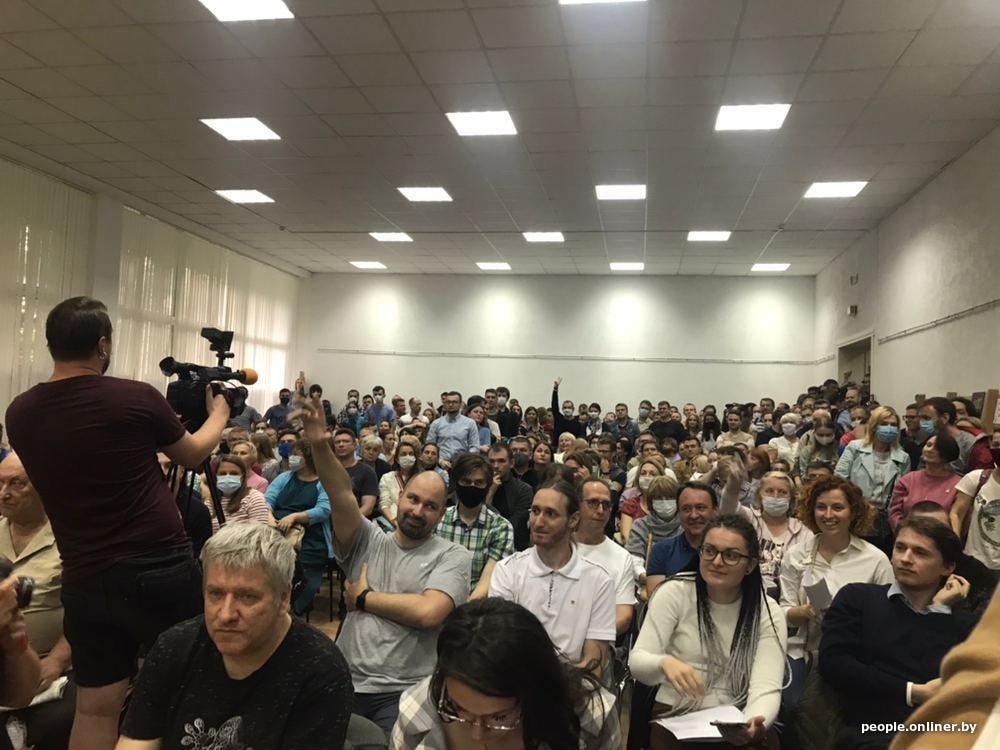 By Zmicier Kuchlej
In over twenty constituencies, voters assisted by political organizations have initiated the recall of their MPs. The popularity of independent trade unions has grown among public sector workers walking out of the pro-government trade union.
The "Honest People" campaign and services created by the Coordination Council provide advisory support to grass-roots campaigns and initiatives, allowing the latter to manage them at their discretion. Activists advocating for the recall of MPs are coordinating their activities in different constituencies through a broad network of Tg chats created for this purpose. In Minsk, such initiatives have been organized in all constituencies. Interestingly, before the 2020 presidential elections, political activity in Minsk was the lowest as compared to other Belarusian regions and cities. Other cities that initiated the recall procedure include Hrodna, Vitsebsk, Salihorsk, Maladzechna, and others. That being said, the recall procedure is complicated and depends on the decisions of local authorities and the CEC.
Political organizations engaged in the recall of MPs include Tell The Truth, BCD, For Freedom, the UCP, and the BSDP (Hramada) and are active in Minsk and other Belarusian cities. Tell the Truth has announced the intention to establish as a political party and launched a purported poll.
Other social groups also demonstrate high self-organization capacity, including lawyers, doctors, teachers, IT specialists, scientists, athletes, and ex-security officials. They aim to achieve their goals within the existing legislative framework, including through the creation of NGOs.
Independent media caught up in the Information Ministry bans and becoming inaccessible in Belarus, are active in social media, and instant messengers and their audiences are growing.
Diaspora, ex-patriots, and the expert community have had an impact on the EU and the US response to developments in Belarus. The EU intends to send EUR 53 million of aid for Belarus, but not for the Belarusian state.
Belarusian civic initiatives have already raised more than USD 5 million for the affected Belarusians. For example, the BYSOL fund for those who lost their jobs for political reasons raised USD 1.85 million, and the BY_help project some USD 3 million for the repressed. Over 200 people have already received compensation.
Independent trade unions have been supportive of public sector employees, which helps them to recruit new members among workers at public enterprises (Naftan, MAZ, BelAZ, Belarusian Steel Works, MTZ, MZKT, Belaruskali, Grodno Azot, Grodnozhilstroy, and others). People continued to walk out of pro-government trade unions and associations, such as Belaya Rus, and the Belarusian Republican Youth Union.
The Belarusian Roman Catholic Archbishop of Minsk and Mahilyow, Tadeusz Kondrusiewicz, harshly criticized the actions of security forces when they locked people in the Red Church.
As long as Belarusian society remains politically engaged, trade unions, political organizations, and NGOs would further strengthen their positions and recruit new members due to grassroots initiatives and walk-outs from pro-government organizations.
You have been successfully subscribed
Subscribe to our newsletter
Once a week, in coordination with a group of prominent Belarusian analysts, we provide analytical commentaries on the most topical and relevant issues, including the behind-the-scenes processes occurring in Belarus. These commentaries are available in Belarusian, Russian, and English.
EN
BE/RU
Situation in Belarus
November 27 – December 3