Election campaign 2020 (Archive)
The aftermath of the 2020 presidential elections: protests continue, repressions mount, self-organisation strengthens, and society is becoming more polarised
The situation got worse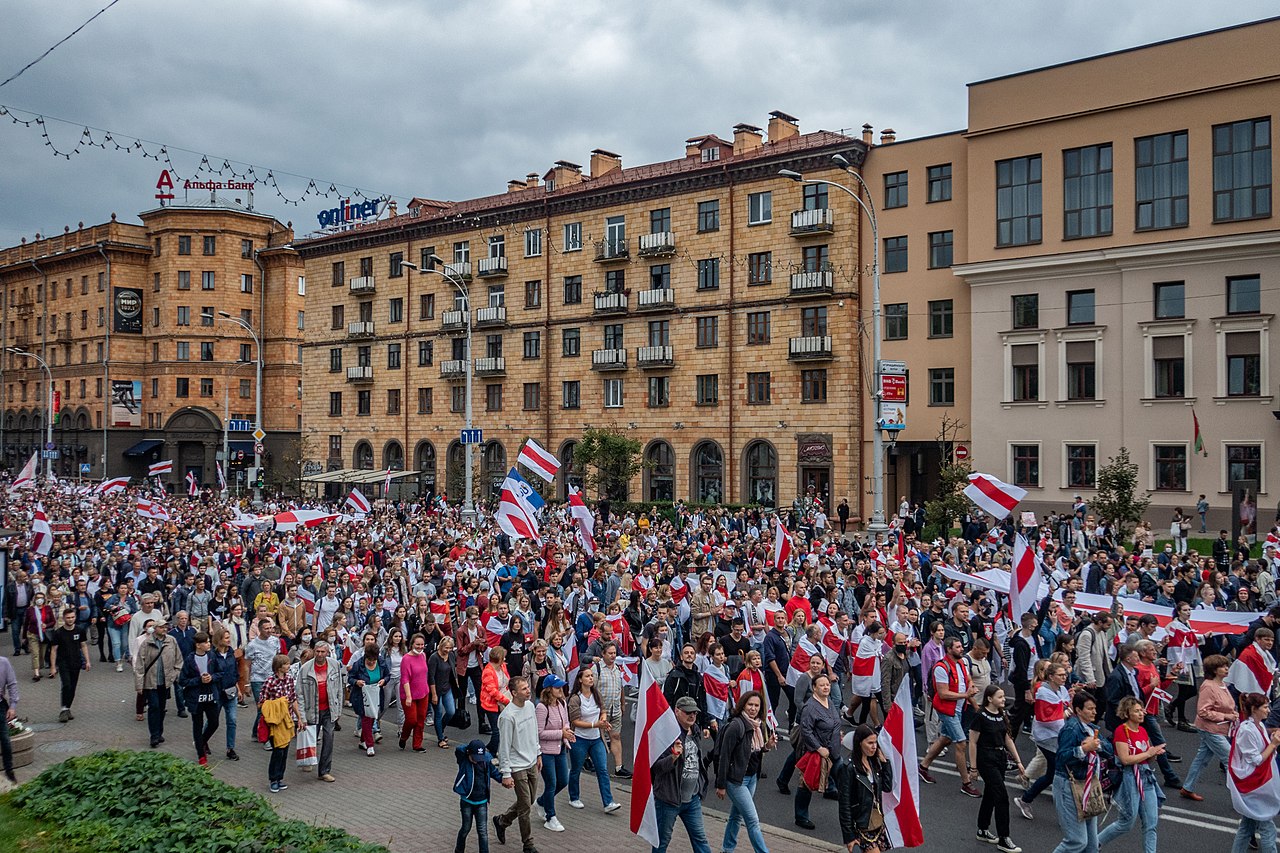 By Valeria Kostyugova
Last week, the authorities significantly stepped up repression, but protests continued and scaled up. Self-organization strengthened and reached residential neighbourhoods. Some representatives of the Belarusian elite publicly sided with those revolting against torture by security officials.
Protests
Last week, the daily public protests continued, taking various shapes, including marches, solidarity chains, group prayers, singing, dancing, and reading. Protest activity has spread to residential areas: local communities gather daily in their backyards and discuss different forms of resistance and public protest.
On September 1st, when the new academic year started in Belarus, student protests mushroomed, showing that pro-Lukashenka education officials were unable to ensure the education process without the coercion. Security restrictions were introduced in most schools, often banning parents from entering the school building guarded by the police. In universities, students staged dissent actions inside university buildings or courtyards; in some cases, the administration called riot police, who roughly detained students right within their alma mater. Some teachers and professors sided with the students and joined the protests.
Last week, the authorities denied entry to Archbishop Tadeusz Kondrusiewicz, presumably for his calls to Catholics for peace and harmony in Belarus. This fact has prompted leaders of all other confessions to show public discontent with such actions by the authorities except for the new head of the Orthodox Church. Believers regularly gathered near the Red Church last week (near the Government House on Independence Square).
On Saturday, the third women's march was held in support for the victims of police brutality across Belarus, gathering some 5k-10k participants in Minsk alone. Some 200k people participated in the Sunday, March in Minsk and crowds in other regional and district centres. On Sunday, Minsk was flooded with military equipment and riot police. When the rally ended, brutal detentions were reported, especially in Minsk and Hrodna (as of 9 pm, 180 people were detained).
Repression
Human rights activists reported about over 1.5k complaints by victims of police brutality on August 9-12 filed to the investigative committees across the country and not a single criminal case instigated on this account.
Meanwhile, 23 criminal cases were initiated based on facts of threats to civil servants (through social media and SMS).
Five students of the Minsk State Linguistic University were arrested during a peaceful action on September 1st.
Four top managers at PandaDoc Minsk branch office, a private IT company, were arrested under embezzlement charges. This company, when protests started, promised financial support and training/retraining for those who would quit security forces and refuse to fulfil criminal orders.
Journalists who filmed student protests on September 1st were held in detention for three days and then sentenced to three days arrests for 'participating in an authorised rally' and released.
Members of the Presidium of the Coordination Council were additionally sentenced to 15 days of arrest upon the completion of their 10-day sentences (Sergei Dylevsky and Olga Kovalkova). Later that day, Olga Kovalkova was taken to the border with Poland by the authorities, the fate of Sergei Dulevsky is unknown.
The 16-year-old victim in the first days of the protest (who was in an artificial coma in intensive care, with many injuries after being tortured by the police) was detained again facing criminal charges. Shortly after he ended up in intensive care with handcuffs around his wrists.
A urologist who came out to condemn the police brutality and who had patients with severely injured reproductive organs was recently arrested and two days later admitted to a hospital from the detention centre with a fractured vertebra, a closed craniocerebral injury, a wound to the left leg, bruises on his chest and nephralgia…
Since August 8th, more than 8k people were detained and since May 8th, when the presidential campaign started, almost 10k.
Tsikhanouskaya and the Coordinating Council
Last week, Tsikhanouskaya spoke at the UN unofficial Security Council meeting and made several public appeals to Belarusians. Together with Veronika Tsepkalo and Maria Kalesnikava she also held an online Q&A stream.
You have been successfully subscribed
Subscribe to our newsletter
Once a week, in coordination with a group of prominent Belarusian analysts, we provide analytical commentaries on the most topical and relevant issues, including the behind-the-scenes processes occurring in Belarus. These commentaries are available in Belarusian, Russian, and English.
EN
BE/RU
Situation in Belarus
September 25 – October 1