Election campaign 2020 (Archive)
As protests mushroom across Belarus, Lukashenka involves the army into the standoff with society
The situation has not changed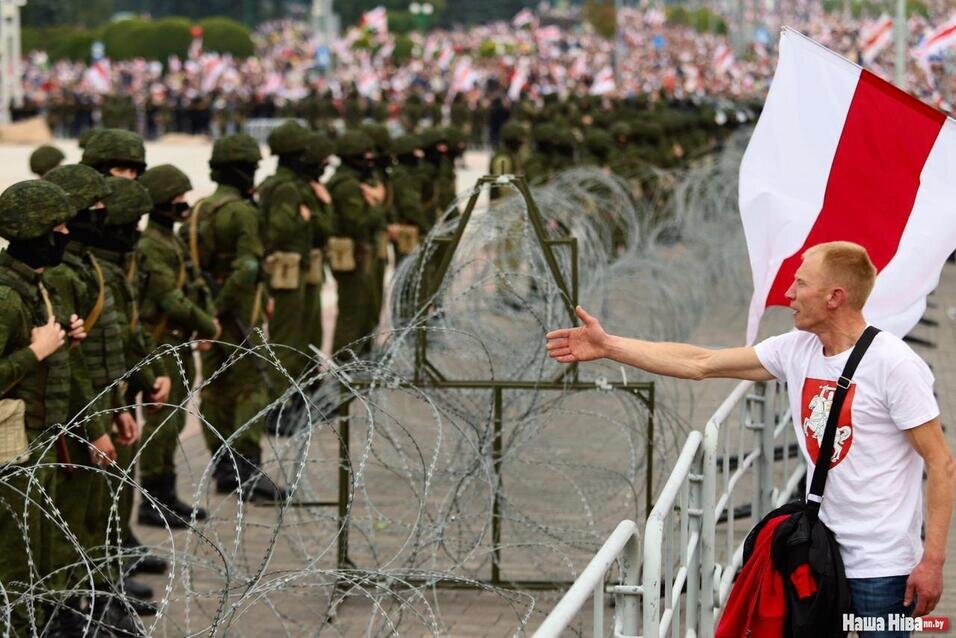 By Valeria Kostyugova
Lukashenka's opponents have set up the Coordination Council, their protests are taking new shapes, and rallies on August 23rd gathered unprecedented crowds a week after mass protests on August 16th. Lukashenka is catching up and has held rallies and other campaign events in several Belarusian cities. Security forces have altered the tactics from widespread punitive measures to targeted repression and threats.
Self-organized protests
According to some estimates, over half a million Belarusians participated in protests across the country on August 16th. The number of participants in the Freedom March was estimated at some 250k-400k in Minsk alone. white-red-white flags flooded many Belarusian cities and towns, including Homiel, Vitsebsk, and Hrodna.
During weekdays protests appeared to have subsided with some 2-4k people gathering in Minsk and proportionally less in other cities.
On Monday, August 17th, large Belarusian enterprises joined the protests, including MKZT (heavy off-road vehicles manufacturer), MTZ (Minsk Tractor Works), MAZ (Minsk Automobile Plant), Belaruskali, Naftan, BelZhD (Belarusian Rail Road), BMZ (Belarusian Steel Works), Minsk Metro, and State TV Belarus 1. The National Strike Committee was established. The demands of the labor collectives remained unchanged: to hold new elections, release all political prisoners, end political persecution, and bring to justice those responsible for violence against protesters.
Lukashenka took strikes seriously. On August 17th, he visited MKZT, where workers shouted 'go away'. Last week, the authorities threatened to protest workers with layoffs, interrogated strike movement activists, used the administrative resource to convince workers to end strikes, detained activists, and barred supporters of striking workers near plant/factory building. Ultimately, by the end of the week, Lukashenka threatened to shut down the striking enterprises.
Residents created local committees in cities and towns to coordinate protests and negotiations with the authorities. In Hrodna, such a committee achieved a tangible result – local authorities enabled protests in the streets, showed real news on local TV, and did not take down historical Belarusian symbols. By the end of the week, Lukashenka dismissed Hrodna region chairman and appointed former Health Minister Karanik to replace him.
New labor collectives and professional communities publicly supported the protests, including doctors, theaters, musicians, teachers, athletes, some state media. Cases of public officials and law enforcement officers resigning are still rare but there were some. Former Culture Minister and Director of the Kupalovsky theater Latushka was released from his position for previous statements in support of protests and became a member of the Coordination Council.
New types of protests occurred last week, such as, for example, a picket against the detention conditions or the Chain of Repentance.
On August 23rd, mass rallies were held across the country like those on August 16th, however, this time, the Belarusian army was helping OMON in 'enforcing order'.
The Coordination Council
On August 17th, Sviatlana Tsikhanouskaya announced the formation of a Coordination Council, a representative body of the Belarusian people, to ensure the transfer of power and to overcome the political crisis. Later the Coordination Council elected the working body, the Presidium, which started operations. The Council had confirmed three principal demands put forward to current authorities: to hold new elections, to release political prisoners and stop political persecution, and to punish those responsible for the violence. The Belarusian Investigative Committee announced that a criminal investigation was initiated on account of the Coordination Council.
Lukashenka, Russian propagandists, and security officials
Lukashenka retained control over security forces and local administrations even in monotowns of striking enterprises (excluding the Hrodna region). A public campaign in support of Lukashenka and state symbols was launched on August 16th. The striking Belarusian TV employees were replaced with Russian ones, including Russian propagandists. Rallies for Lukashenka (under very dubious slogan я#батька [ya#batka or I#father]) gathered significantly fewer participants than protests opposing Lukashenka but helped him to become more visible on Belarusian streets. The reason behind the actions of Lukashenka's propagandists remains unclear, whether it is a post-election campaign, an election campaign, or a protest.
Last week Lukashenka refused to negotiate with the protesters, moreover, he did not sympathize with the victims of police brutality and he was ready to replace the striking workers with foreign workers (which caused rage among Belaruskali mine workers). He did not recognize the right of Belarusians to their free will by claiming that they are being guided from abroad.
The only thing that changed in Lukashenka's rhetoric was the origin of external threats, that is, now, instead of Russia as it was in the past three months, they were allegedly coming from Poland, Lithuania, Ukraine, the EU, NATO, and the United States.
Lukashenka awarded some security officials allegedly involved in the crackdown on protesters and involved the army in suppressing the protests.
Over the past week, Lukashenka's determination not to change anything in Belarus remained unchanged.
You have been successfully subscribed
Subscribe to our newsletter
Once a week, in coordination with a group of prominent Belarusian analysts, we provide analytical commentaries on the most topical and relevant issues, including the behind-the-scenes processes occurring in Belarus. These commentaries are available in Belarusian, Russian, and English.
EN
BE/RU
Situation in Belarus
September 11 – September 17