Election campaign 2020 (Archive)
2020 Presidential Elections: mass protests, mass torture, and fracturing of the system
The situation got worse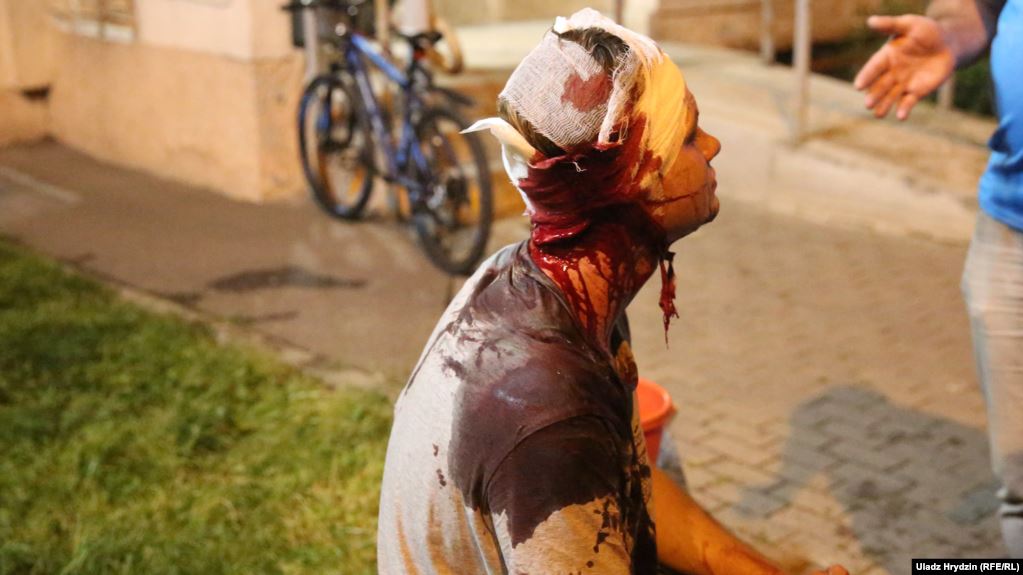 By Valeria Kostyugova
Large-scale beatings, detentions, and torture on August 9-12 could not stop further mass protests opposing Lukashenka growing day-by-day, involving workers, organizations, and even villages throughout the country. Lukashenka is neither ready for concessions nor compromise.
Repression
The election campaign, which was characterized from the start by repression, evolved on August 9-12 into a punitive action. More than 8,000 people were detained and weapons including baton rounds, flash-bangs, tear gas, and water cannons were used against peaceful demonstrators, ordinary citizens, doctors who tried to aid the victims and journalists from different countries covering events in Belarus. People were beaten indiscriminately in the streets and public buildings and on August 11th, a demonstrator was shot by riot police near the Pushkinskaya metro station in Minsk. Internet connectivity was blocked by the authorities from August 9-11 in a failed attempt to hide the crimes of the riot police and internal security troops.
The first detainees to be released, mostly Russian journalists spoke of the torture they experienced in Lukashenka's dungeons. Doctors issued a statement demanding a cessation of violence as hospitals were filling with victims.
Motivated by stories of unspeakable violence on Belarusian streets, protests began to grow rapidly and on the evening of August 12th, the first two thousand detainees were released, and riot police instructed to refrain from attacks on citizens. Social media was flooded with photos and videos of mutilations and torture against Belarusian citizens. Adding demands to release the detained and punish those responsible for the unprecedented violence to the core demand that Lukashenka resign. In Homiel and some other cities, authorities yielded to local pressure on August 15th and released all detainees. On the evening of August 16th, about 5,000 people remained in detention with the location of about 80 people remaining unclear.
The church and assorted commentators spoke out against the illegal actions by security forces. Social media witnessed numerous refusals by different mid-level security officials to participate in crimes against their fellow citizens.
Protests
From August 9th, protests grew by the day with workers at large enterprises and small settlements beginning to participate by August 12th-13th. Labour collectives issue three major demands:
Lukashenka's resignation and either recognition of Tsikhanouskaya as the legitimate president or a re-run of the election.
The release of all detainees.
Action against those responsible for violence and electoral fraud.
Given that they appear to lack a central nexus, the protests are strikingly effectively organized.
On August 14th, the CEC announced the final election results, allocating 80% of votes to Lukashenka and rejecting complaints filed by Sviatlana Tsikhanouskaya, Andrei Dzmitryeu, and Ana Kanapatskaya.
On August 15th, thousands gathered in Minsk near Metro Pushkinskaya to commemorate the first victim of the riot police violence, Aliaksandar Traikauski.
On August 16th, unprecedented crowds rallied in cities across Belarus, with some 250k-400k participants in Minsk alone.
Self-organization and self-aid
From the first days of the protests, doctors and residents joined in helping victims of the brutality of the security forces leading to many of them being caught up in the violence as well. Near detention centers on Akrestina Street in Minsk and Zhodzina, volunteers set up camps to provide first aid to those released, including medical aid, psychological assistance, food, drink, clothing, and information.
Lukashenka
Initially, Lukashenka pretended that nothing was happening in the country, but once this position became untenable, he switched to uttering threats, issuing dire warnings regarding "external forces" attempting to destabilize the country, and downplaying the scale of the protests a hundredfold. On August 16th, he organized a showpiece rally in Independence Square where the administration bussed in delegates from different cities to prove his widespread support. Lukashenka said he would not give up the country even after his death, calling protesters an insignificant minority.
The beginning of the system collapse
As protests grew and information about illegal actions by the administration mushroomed, more and more famous people and collectives declared non-recognition of the election results and condemned police violence against citizens. On August 15th and 16th, white-red-white flags were raised in many settlements to replace the state red-green flags.
You have been successfully subscribed
Subscribe to our newsletter
Once a week, in coordination with a group of leading Belarusian analysts, we provide analytical commentaries to the most topical and relevant issues, including on behind the scenes processes ongoing in Belarus, in Russian and English.
EN
RU
Situation in Belarus
May 22 – May 28