Election campaign 2020 (Archive)
The 2020 presidential elections: Integrity of the electoral system compromised. Voters protest
The situation got worse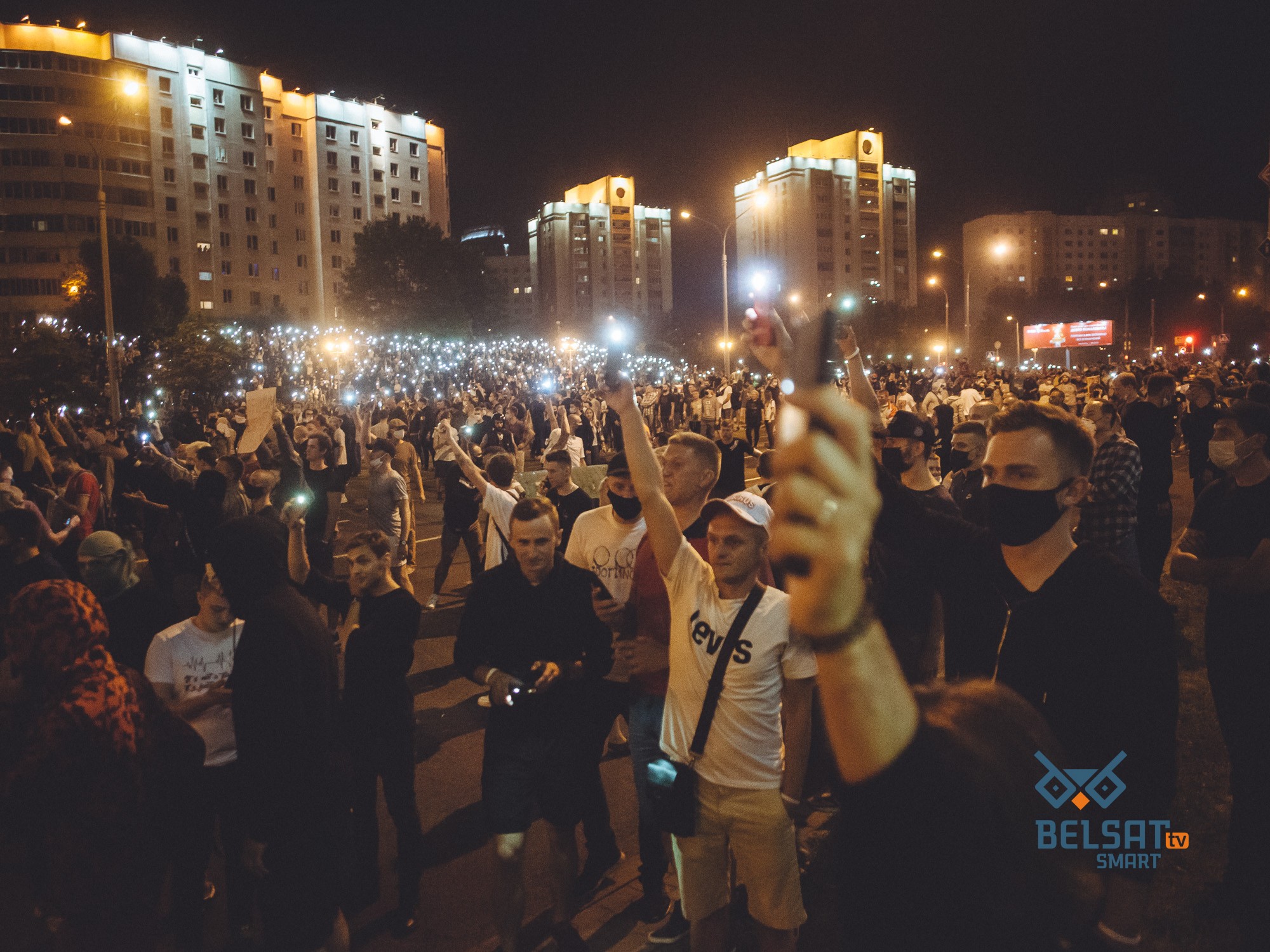 Early voting and election day proceeded in the atmosphere of intimidation and repression, the electoral system was frequently used against competitors and voters. Lukashenka proclaimed himself the winner, and voters disagreed, claiming the victory for Tsikhanouskaya.
Repressions
In the last week of the campaign, the authorities impeded virtually all aspects of the process, including campaigning, observation, coverage, and political demonstrations. De facto, they banned meetings with voters for Tsikhanouskaya and Dzmitryeu (other candidates abandoned plans to hold rallies). Accredited observers were prevented from observation at polling stations. Last week alone, some 250 people were arbitrary detained, raising the total count since the beginning of the campaign to over 1,500.
Turnout
According to domestic observers at polling stations and data collected from polling stations, the official numbers of those who voted early during a six-day period, as reported by the Central Electoral Commission (42%), were artificially high. According to them, the real turnout during early voting was 10%-20% depending on the polling station. In Homiel region, early voter turnout was reported above 50%.
Numerous queues of voters at polling stations on election day have shown what a mass turnout really looks like, additionally indirectly proving the fact that there was no mass turnout in previous elections. The integrity of Belarusian electoral system was compromised by mass voter turnout.
Number of voters registered in the online system Golos (created by Babaryka's team to secure people's votes) has exceeded 1.2 million. On the eve of voting day security officials detained more than 20 coordinators of the Golos project and on election day, the Golos project was inaccessible.
Lukashenka's major rival Sviatlana Tsikhanouskaya
During campaigning, Tsikhanouskaya managed to mobilize over 150k people to participate in her rallies across the country. Last week, her video appeals on the Internet had over 1 million views.
Authorities threaten with violence
As election day was getting closer, authorities enhanced their threats of using troops against protesters. Sviatlana Tsikhanouskaya and Adrei Dzmitryeu appealed to the military to obey the law and remain committed to the oath. The night before the elections, authorities deployed military equipment in Minsk. By evening on voting day, central squares in large cities and the centre of Minsk were cordoned off and blocked. On election day internet was slow, some news websites were blocked and when polling stations closed, almost all outgoing traffic was blocked.
Voting results
The CEC declared Lukashenka's victory with 80,23% of votes in his support (preliminary count on early August 8th); 9.9% voted for Tsikhanouskaya; 1.68% for Kanapatskaya; 1.04% for Dzmitryeu; 1.13% for Cherechen and 6.02% – against all.
Data from few polling stations where observers were present during the vote count, enabled conclusions that Lukashenka, at least did not win in the first round. Election commissions, including the CEC, were evacuated by domestic troops on the night of voting day.
The voters claimed the victory of Tsikhanouskaya and came out to the streets across Belarus to support her in the evening of August 9th. Protests last until late at night and were eventually dispersed by the riot police with the use of flash-bangs, tear gas, baton rounds and water cannons.
Despite Lukashenka's victory marred by large-scale use of violence and elimination of opponents, on August 10th, Xin Jiping, Kasym Zhomart Tokayev, and Vladimir Putin congratulated him on the 'relection'.
By Valeria Kostiugova
You have been successfully subscribed
Subscribe to our newsletter
Once a week, in coordination with a group of prominent Belarusian analysts, we provide analytical commentaries on the most topical and relevant issues, including the behind-the-scenes processes occurring in Belarus. These commentaries are available in Belarusian, Russian, and English.
EN
BE/RU
Situation in Belarus
November 27 – December 3