Election campaign 2020 (Archive)
Tsikhanouskaya continued to gather stadiums; the Security Council has shifted the burden of responsibility for the elections' safety onto candidates and the police
The situation got worse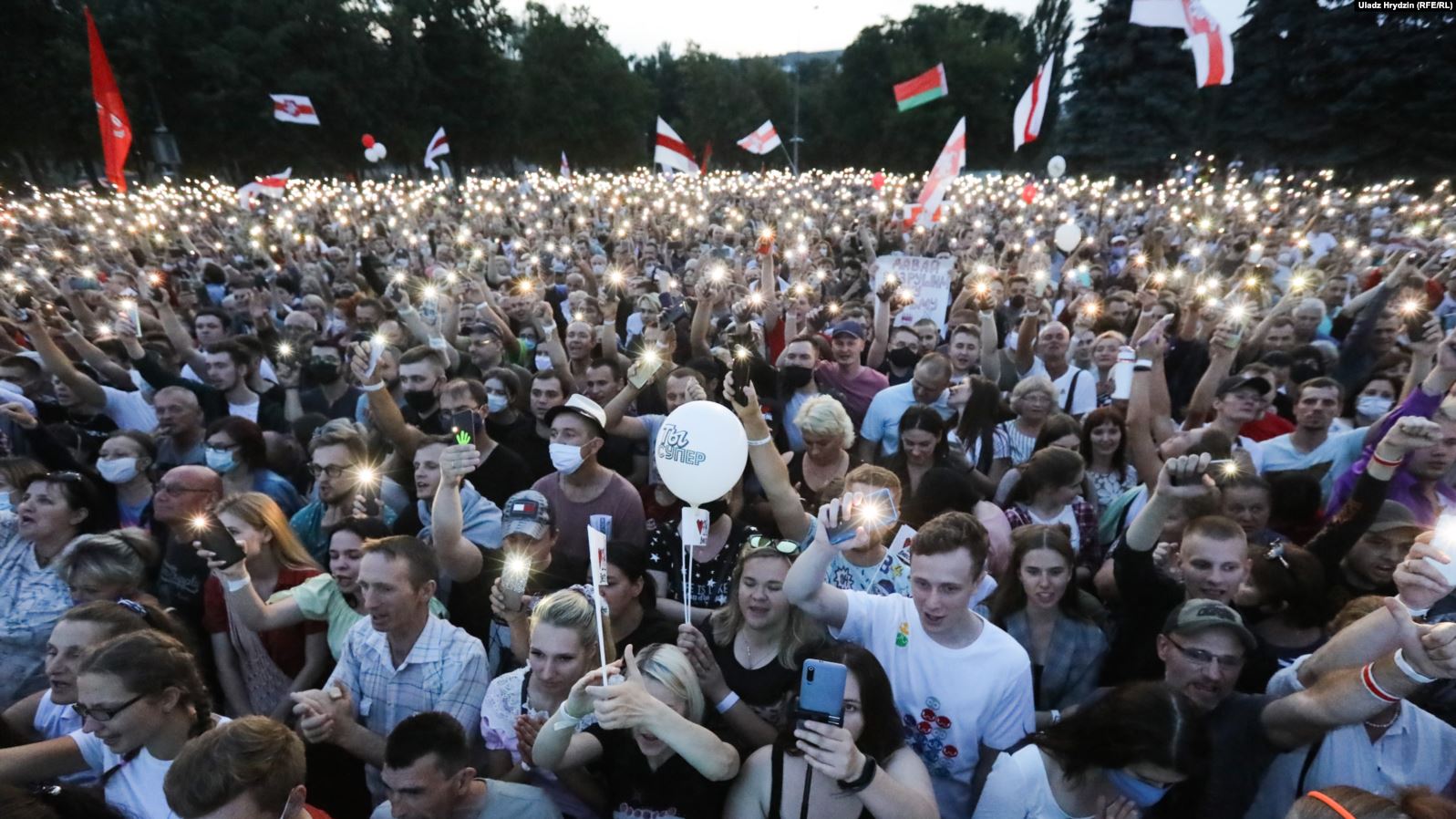 By Valeriya Kostyugova
On July 30th, 2020, the Security Council advised the candidates about some 200 Russian militants plotting subversions in Belarus, 33 of whom had been detained. On July 31st, Sviatlana Tsikhanouskaya held a rally in Minsk gathering, 63,000 participants. Authorities continued to detain journalists and activists. The CEC unofficial recommendations jeopardize the secrecy of the vote.
Russian fighters as an intimidation instrument
On July 30th, the CEC invited the candidates to a briefing, where the head of the Belarusian Security Council informed about 33 fighters affiliated with a private paramilitary company Wagner (Russia) being detained in Belarus the day before. He said that they were only a part of a subversive detachment deployed to Belarus, the remaining 170 fighters yet had not been located. According to Raukou, demolition specialists, snipers, and IT specialists were among those detained and two more groups were preparing for the deployment from Russian Pskov and Nevel. Simultaneously, he noted that the Security Council could not strengthen the border to safeguard against such groups as penetrating Belarus.
So far, the authorities have not disclosed measures undertaken to locate and identify the remaining 170 fighters. Communication with Russia to prevent the penetration of new groups was not on the operational level – primarily through press statements and Foreign Ministry contacts. Equally, there were no reports about joint actions of the special services, or about contacts in this regard.
Last week, the Belarusian Foreign Ministry sent a note to Russia in response to the closure of the borders by Russia after reports about fighters came out. The note did not mention the interference in the internal affairs of Belarus and/or attempts to influence the election campaign.
By notifying the candidates of the impending threat without ensuring special security measures to safeguard candidates and voters, including participants in rallies, meetings with candidates, and at polling stations, the security forces de facto have shifted the burden of responsibility for the campaign's safety onto the candidates and the police.
Campaigning gains momentum
Last week, joint HQs of Tsikhanouskaya, Babaryka, and Tsepkala continued to gather stadiums across the country, the largest rally took place in Minsk on July 31st with estimated 63k participants (according to human rights activists). They held three concerts-rallies a day in the regions and designated meeting venues were usually too cramped to accommodate all participants. Streams from Tsikhanouskaya rallies have set new viewing records. The police have strengthened security measures during the rallies by putting metal frames around the venue. Policemen were polite and no detentions were reported.
Andrei Dzmitryeu also continued to campaign in the regions, visiting three cities a day, however, his rallies were much less popular than joint HQs' rallies. Anna Kanapatskaya and Siarhei Cherechen had earlier abandoned plans to hold rallies.
Last week, new televised appeals by candidates Tsikhanouskaya, Dzmitryeu, Kanapatskaya and Cherechen, and two rounds of debates, were released. One round of 2-hour debates was broadcasted on state TV (30 min + 30 min + 1 hour) – in compliance with the Electoral Code – with the participation of Dzmitryeu, Cherechen, and Haudukevich (as Lukashenka's proxy). TV appeals and debates were shown once and not made available online on state TV websites. The second debate was organized by the Belapan news agency with the participation of Dzmitryeu, Cherechen, and Kavalkova (as Tsikhanouskaya's proxy).
The merger of candidates is unlikely. On August 1st, Cherechen said that the BCD and the UCP leadership, both members of Tsikhanouskaya HQs, impeded any coordination between the candidates, including on observation matters.
Campaigning became visible in the streets last week – the CEC printed and posted portraits and biographies of candidates on a few stands. Campaign materials printed by candidates were immediately removed from all stands/boards. Tsikhanouskaya HQs announced that they were denied placing campaign posters on big boards, Dzmitryeu said he was not allowed to place advertisements on billboards, big boards, in the metro, at public transport stops, and in the public transport.
Repressions continue to mount
Security forces continued to detain activists, journalists, and bloggers. Besides, Russian political strategist Vitaly Shklyarov was detained last week, allegedly, in connection with Wagner fighters. Also, some of those attempting to file a petition requesting to change interim measures against Babaryka were detained right in the KGB building and faced charges for holding an unauthorized rally.
The secrecy of voting in jeopardy
Presumably, due to the popularity of 'Golos' [Vote], an online platform collecting voting information (over 600k registered users), the CEC has advised abandoning curtains on the voting booths to prevent the photographing of ballots (concerning anti-COVID-19 measures). Additionally, Lukashenka has instructed us to step up safety measures at electoral commissions.
You have been successfully subscribed
Subscribe to our newsletter
Once a week, in coordination with a group of leading Belarusian analysts, we provide analytical commentaries to the most topical and relevant issues, including on behind the scenes processes ongoing in Belarus, in Russian and English.
EN
RU
Situation in Belarus
May 22 – May 28