Society and political parties
The civil society promotes further sanctions and political organisations oppose constitutional reforms before Lukashenka's resignation
The situation has not changed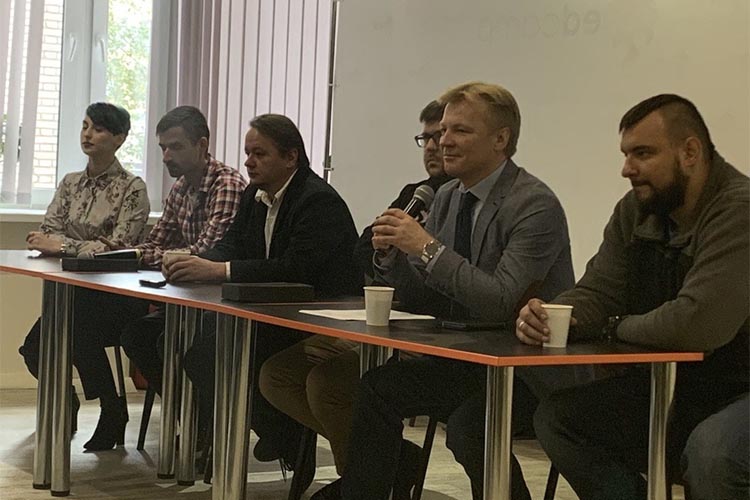 By Zmicier Kuchlej
Most political organizations oppose the government-propelled constitutional reforms and do not participate in forums debating possible changes. Human rights activists, former presidential candidate Sviatlana Tsikhanouskaya and the Belarusian Diaspora are successfully promoting the expansion of sanctions against Minsk in the West.
Diaspora and former presidential candidate Sviatlana Tsikhanouskaya keep Belarus in the focus of the international community. The Council of Europe stated that they were ready to help Belarus to carry out "genuine reforms", including the financial support for democratic reforms. Sviatlana Tsikhanouskaya discussed the boycott of the World Ice Hockey Championship with the Baltic Foreign Ministers.
Human rights activists are promoting further sanctions in response to the escalation of violence by security forces against peaceful demonstrators. The human rights community proposes that the EU introduced targeted economic restrictions on the Belarusian authorities and issued Interpol warrants for security officials liable for the excessive use of violence.
Belarusians continue to support victims of repression. For example, after independent media reported about the harsh detention of a flower business owner, Minsk residents queued up to his shop to buy flowers.
The Coordinating Council launched a new initiative "KOTOS" to develop local activity and organize local elections. Additionally, the initiators liaise with Minsk City Council deputies who are critical of the violence and the state leadership.
The overwhelming majority of political organizations ignore state-organised forums to discuss constitutional reforms (equally, they are not invited), except, for example, members of the "Fair World" in Brest. Opponents of the Belarusian leadership see these events as an authorities' attempt to impose their agenda without changing the current political system. The Golos platform launched an online vote against the adoption of constitutional amendments without a broad dialogue or before re-election, in which more than 370k people have already taken part.
Public sector workers continued to make video appeals condemning the violence and electoral fraud, but the strike movement yet has not developed. For example, employees of Grodno Azot and its daughter Khimvolokno Plant recorded a video in which they appealed to the authorities, the management of the enterprise and all Belarusians.
Civil society and political organizations disregard the authorities-driven debate of constitutional reforms. Repression by the authorities would continue to prompt a backlash from civil society and the diaspora, increasing the number of crowdfunding initiatives and support for the repressed.
You have been successfully subscribed
Subscribe to our newsletter
Once a week, in coordination with a group of prominent Belarusian analysts, we provide analytical commentaries on the most topical and relevant issues, including the behind-the-scenes processes occurring in Belarus. These commentaries are available in Belarusian, Russian, and English.
EN
BE/RU
Situation in Belarus
November 20 – November 26