Election campaign 2020 (Archive)
In the teeth of ever-growing protests, the incumbent regime tries and fails to muster a demonstration of public support
The situation has gotten better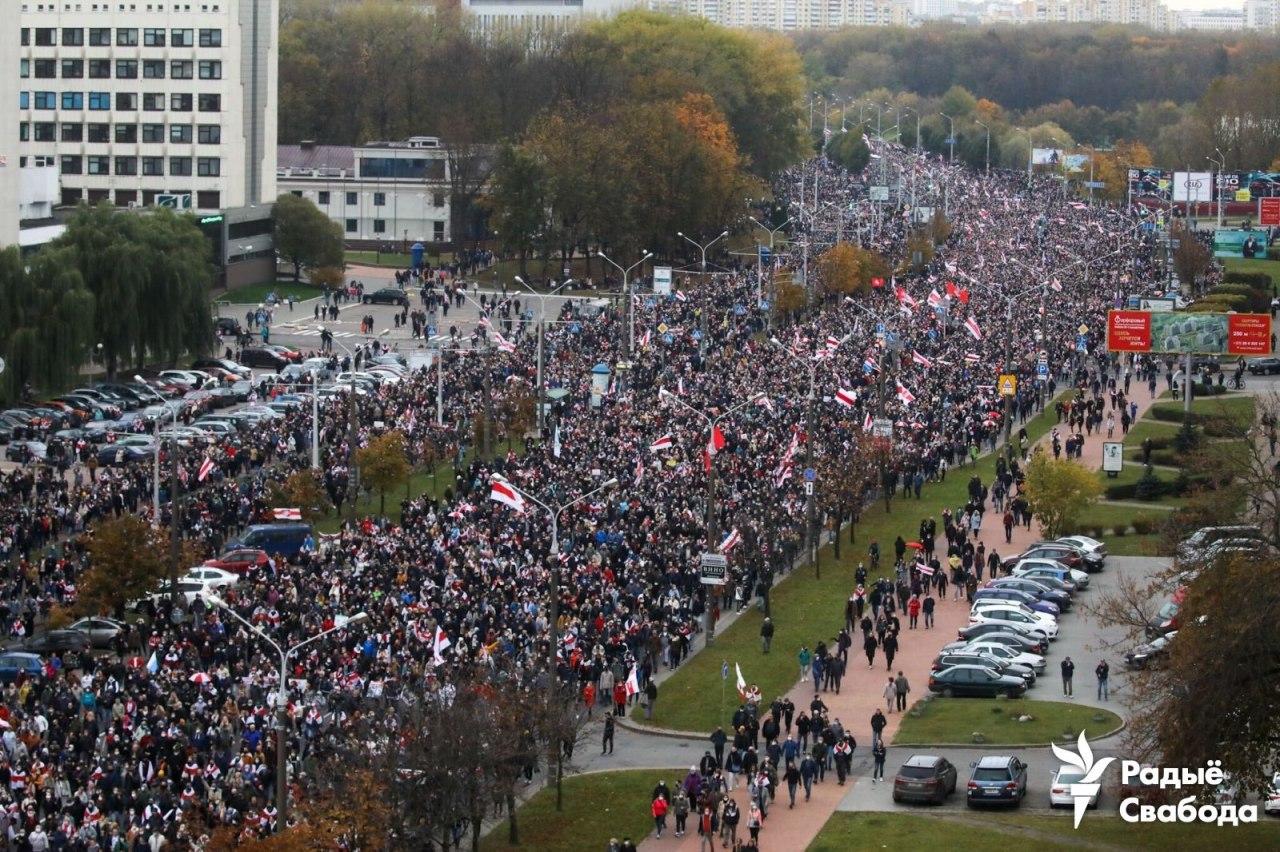 By Valeria Kostyugova
This week's protests gathered impressive crowds, while the authorities tried and abandoned plans to organize a massive rally to demonstrate popular support. On October 25th, armed security officials fired baton rounds into crowds of fleeing protesters and hunted those hiding in the courtyards.
Rallies and Sviatlana Tsikhanouskaya
Participation in rallies increased throughout the week leading up to October 26th, the expiry date for the People's Ultimatum announced by Tsikhanouskaya, culminating in a 200,000-strong march in Minsk on Sunday, October 25th.
On October 19th, pensioners held their third rally, which became the largest among them all. The authorities tried to muster a pensioners' march in their support but were only able to mobilize military retirees, i.e. relatively young men wearing a uniform. Both rallies were held at around the same time and place showing off the scale and spirit of the white-red-white rally.
Students continued to rally throughout the week, so as inhabitants in residential areas, gathering impressive crowds and winning over those who fought with the protest symbols (the latter stopped taking down ribbons, flags, etc).
Mothers, mental health workers, the Polatsk State University, the BNTU, culture workers and scientists released their video appeals calling to stop the violence and to hold the new elections.
The regime announced a large-scale pro-government rally to be held in Minsk on October 25th to demonstrate popular support, but as the date approached they abandoned their plans with vague references to security issues and the coronavirus situation. Many are convinced that the task of assembling such a show of support was simply beyond their power.
According to some estimates, the protest rally on October 25th gathered a crowd of some 200k people in Minsk, despite the closure of 12 metro stations, police cordons within and around the city, Internet shutdown, and troops and military equipment flooding the streets. Sunday protests also took place in Lida, Homiel, Brest, Baranavichy, Hrodna, Valkavysk, Polatsk, Navapolatsk and Mahileu.
Repression
World leaders and even the Kremlin have condemned the violence against peaceful protesters in Minsk. In response, the regime not only continued to reshuffle senior administrators, intimidate and threaten athletes and activists, and arrest people but also fired baton rounds into crowds of fleeing protesters and hunted those hiding in the courtyards on October 25th. At least 150 people were detained in Minsk alone.
You have been successfully subscribed
Subscribe to our newsletter
Once a week, in coordination with a group of prominent Belarusian analysts, we provide analytical commentaries on the most topical and relevant issues, including the behind-the-scenes processes occurring in Belarus. These commentaries are available in Belarusian, Russian, and English.
EN
BE/RU
Situation in Belarus
November 27 – December 3