Election campaign 2020 (Archive)
The authorities threaten to use lethal weapons whilst protests engage new social groups
The situation got worse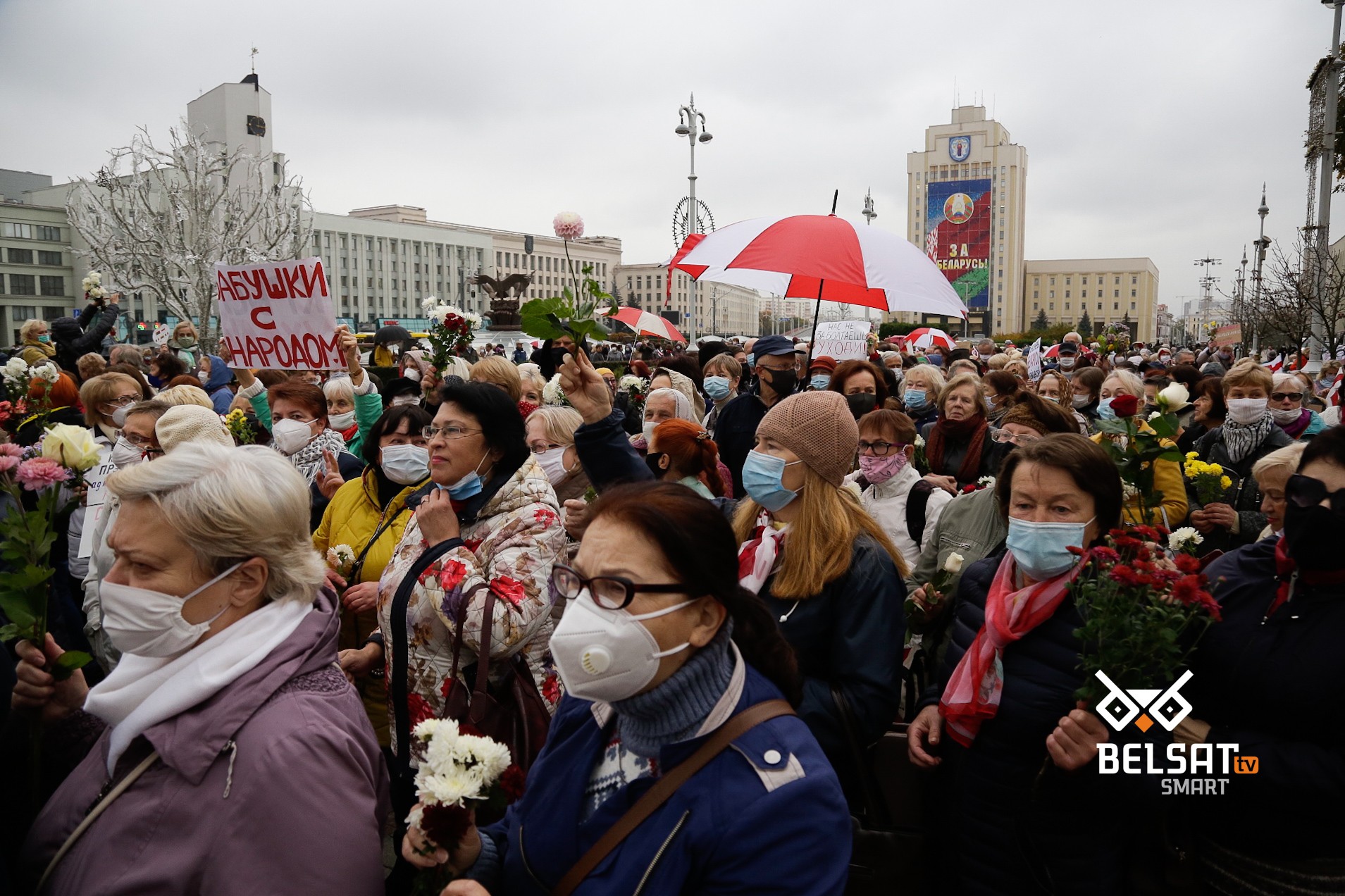 By Valeria Kostyugova
Despite stepped-up repression by the authorities, voiced threats of using lethal weapons, and warnings against possible insurrections, protests expanded to new territories and engaged new social groups. Simultaneously, participation in Sunday protests has somewhat reduced. Sviatlana Tsikhanouskaya delivered an ultimatum to the authorities.
Protests
On October 12th, pensioners marched through Minsk streets in a crowd bigger than a week before. The case of the riot police using special means, such as flashbangs and pepper spray was reported. On October 14th, Mother's Day in Belarus, mothers gathered for a rally. On October 15th, people with disabilities marched through Minsk streets. Detentions were reported on that day, for example, human rights activist Aleh Hrableuski, who was observing the march, was detained.
Every night, people continued to gather in residential districts for small celebrations. Solidarity chains were organized in all districts of Minks every night protesting violent arrests on October 11th, the use of special means on October 12th, and the beating of Maksim Khoroshin on October 13th. Some of those events were brutally dispersed by riot police with the use of special means.
New cases of beatings, violence and brutal arrests prompted a new wave of video appeals and collective statements. Last week, doctors released three video appeals, opposing death threats, concealment of information about the covid-19 situation and demanding to stop the violence and release arrested Vitsebsk doctors. Workers of GrodnoAzot, Belaruskali and other enterprises also filmed video appeals supporting Tsikhanouskaya's ultimatum.
On October 17th, women held a traditional Saturday march, which students had joined. The Sunday Partisan March on October 18th was held in Minsk in one of the residential districts, gathering over 60k participants. People also protested in other regional and district cities.
Repression
During the pensioners' march, more than 200 people were detained, on October 11th – over 700. Later in the week, fewer detentions were reported despite daily rallies. On October 17th, some 50 people were detained and about 150 on October 18th. On Sunday, October 11th, riot police used special means and arrested people. Some were beaten black and blue and on October 13th, the owner of a flower shop Maxim Khoroshin was severely beaten 'on camera'.
Last week, security forces consistently stepped up threats and intimidation, including the threat to use lethal weapons. Simultaneously, security forces kept seeking public support for their actions from prominent citizens, such as, for example, deputy and head of GONGO "Belaya Rus" Davydzka and head of Sociology at National Academy of Science Shchekin.
Security forces continued to persecute journalists, specifically targeting those on duty and launching administrative proceedings against them. Defence lawyers have also become easy targets.
Russian and Belarusian propaganda attempted to justify police brutality with the 'evidence' of allegedly radicalizing protests, by showing identical staged footage.
Simultaneously the authorities replaced prison detention with house arrest in respect of Ilya Salei, one of the 12 participants in the meeting with Lukashenka in the KGB detention centre. Late last week, two other political prisoners of those 12 were placed under house arrest, Voskresenky (from Babaryka's HQs) and Rabtsevich (PandaDoc). On October 19th it became known that the political strategist Vitaly Shkliarov and member of the Board of the Coordination Council Liliya Vlasova were also placed under house arrest.
Sviatlana Tsikhanouskaya and the Coordination Council
In response to the increase in police brutality and threats voiced by security forces, Sviatlana Tsikhanouskaya issued an ultimatum to the authorities on October 13th. In essence, she demanded that by October 25th, all political prisoners must be released, violence must stop, and Lukashenka must resign. Otherwise, on October 26th, a general strike will begin, and people will peacefully take to the streets.
Last week, both, Tsikhanouskaya and the Coordination Council made efforts to establish contact with the protest groups and convince their representatives to retain the peaceful nature of the protest. She was in contact with workers, students, Minsk residents and others.
You have been successfully subscribed
Subscribe to our newsletter
Once a week, in coordination with a group of prominent Belarusian analysts, we provide analytical commentaries on the most topical and relevant issues, including the behind-the-scenes processes occurring in Belarus. These commentaries are available in Belarusian, Russian, and English.
EN
BE/RU
Situation in Belarus
November 20 – November 26