Society and political parties
Civil society information channels bypass state media in popularity; Babaryka's election HQs have announced a call to create a political party
The situation has not changed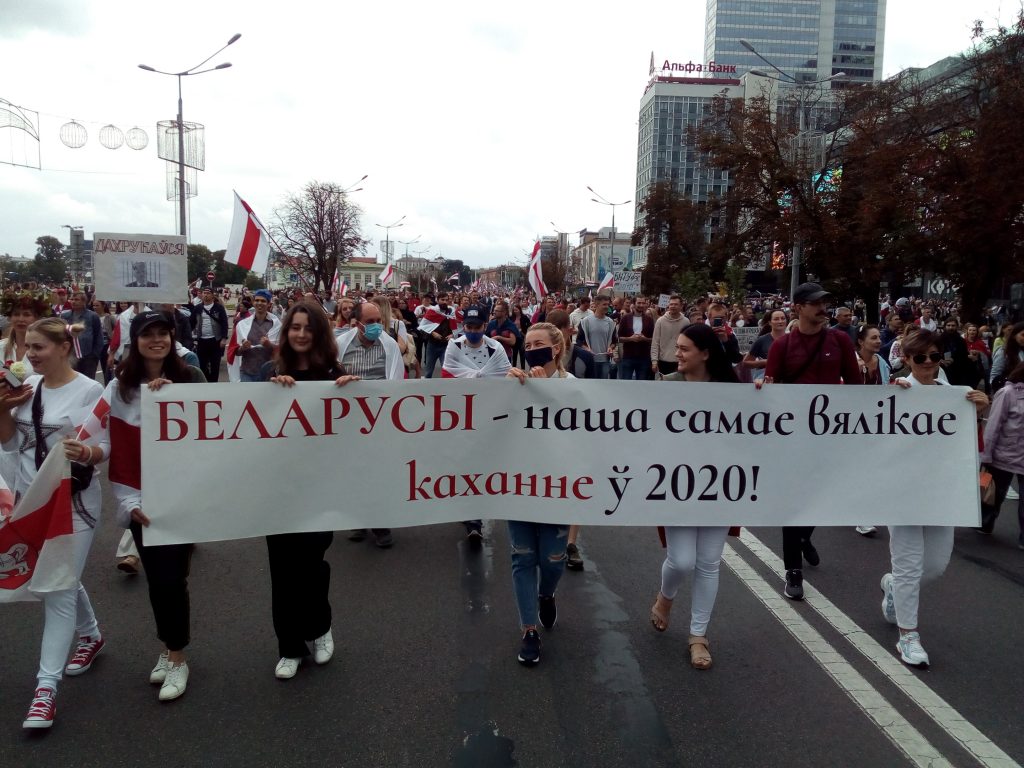 By Zmicier Kuchlej
Civil society and IT companies have broken the authorities' information monopoly and managed to shape an alternative media environment in Telegram channels and social media. The role of political organizations in coordinating civic initiatives continues to grow amid a lingering political crisis, while Telegram channels coordinate street protests.
The authorities made further efforts to eliminate the crowdfunding opportunities for society and business. However, the private business continues to support civic initiatives and victims of repression. The founder of PandaDoc company published a message about the repression of IT companies and announced the non-stop economic, political, informational pressure on the authorities.
The BY_help campaign has already repaid some BYN 0.5 million rubles to the victims of the security forces, and the Belarus Solidarity Foundation raised some USD 2 million to help those who lost their jobs.
The recall of MPs has stumbled upon complicated legal procedures and opposition from the authorities. However, last week some MPs met with voters. For example, MP Valery Voronetsky, not only agreed to meet with voters but also said that all facts of violence by security forces during the protests must be studied.
Young people and students continued to walk out of the pro-government Belarusian Republican Youth Union (BRSM) all over the country, especially after a harsh clampdown on student protests.
The independent trade union movement is attempting to unite strike committees and workers who walk out of the state trade union. The Steering Committee has launched a Trade Union Online initiative to support workers in their engagement with independent trade unions.
Electoral HQs of Babaryka announced the creation of a political party, 'Vmeste' [Together]. The founders of the new party are members of Babaryka's initiative group, some 10k people. His HQs supported several initiatives which have an extensive base of supporters, such as, for example, "Honest People" (over 1.24 million).
Many experts and activists have lashed out at Babaryka's HQs initiative, also causing tension within the Coordination Council.
That said, many political organizations are not represented in the Coordination Council and pursue independent agendas. For example, former presidential candidate and Tell The Truth leader Dzmitryeu also announced the intention to create a political party and supported the recall of MPs initiative in several constituencies. Former presidential candidate and chairman of the BSDH Cherechen is attempting to engage in a dialogue with the Industry Ministry over proposals to improve the work of the largest state-owned enterprise, Minsk Motor Works (MMZ).
Hence, the role of political organizations is likely to increase as the political crisis in Belarus drags on.
You have been successfully subscribed
Subscribe to our newsletter
Once a week, in coordination with a group of prominent Belarusian analysts, we provide analytical commentaries on the most topical and relevant issues, including the behind-the-scenes processes occurring in Belarus. These commentaries are available in Belarusian, Russian, and English.
EN
BE/RU
Situation in Belarus
November 20 – November 26