Security issues
Lukashenka is looking for a cheap option to strengthen repression and intimidate the protest
The situation has not changed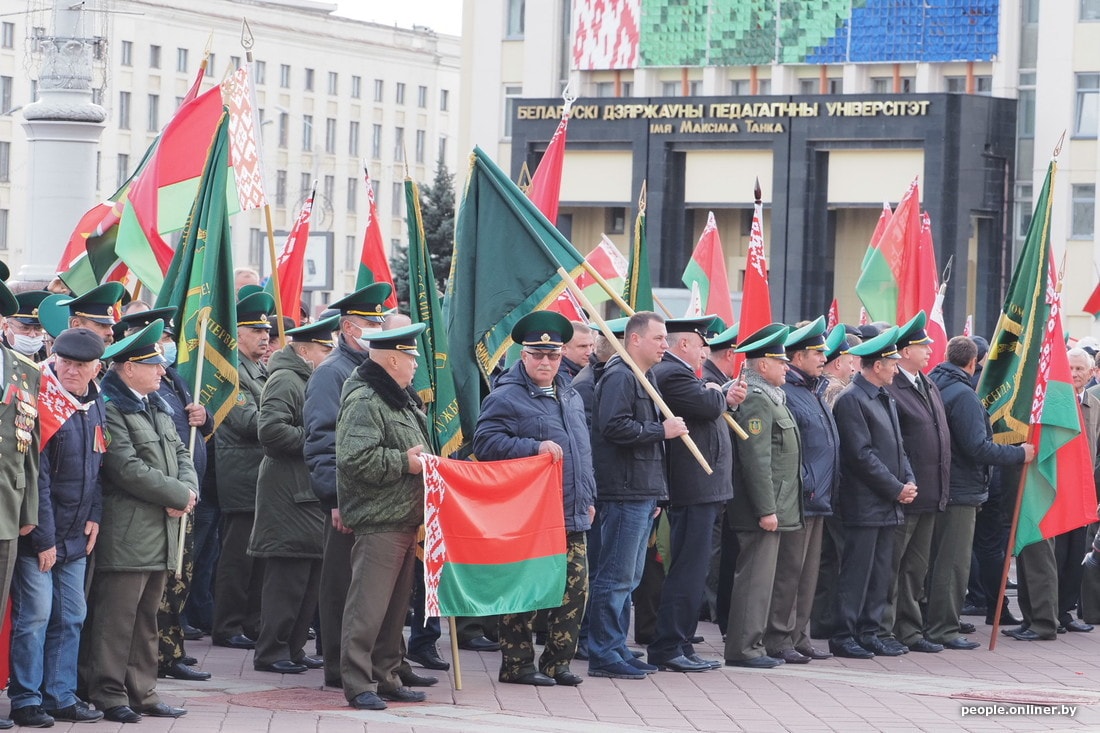 Lukashenka is unlikely to abandon the state monopoly on armed violence, hence alleged plans to form civilian armed loyalist structures would not materialize.
On October 29th, 2020, Lukashenka burst into a lengthy monologue on the possibility of forming and arming civilian militia (aka "flying squads") comprised of retired security officials and veterans of the war in Afghanistan, to suppress protest activity. Allegedly, there were many of those who desired to become members of such squads.
Undoubtedly, the protest activity of recent months has overstrained the regime's power block on the one hand, and made Lukashenka discontent and somewhat anxious, on the other. However, his idea has some limitations, which make its implementation highly questionable.
There is no practical need for this. Despite the scale of protests, the regime has sufficient control over the situation, adapting repression to the new conditions.
The formation of paramilitary structures will require a significant reorganization within the Interior Ministry and will increase the workload on special services to control the activity of such squads.
Competencies and capabilities of squads' members raise doubts (they would be primarily men aged 48+ whilst protests are associated with high physical activity).
Members of such squads would be perceived either as private individuals or as "titushki", not as representatives of the authorities, hence the risk of clashes between them and protesters is high.
The support for the regime among retired law enforcement agents and veterans should not be exaggerated. Judging by the allocated pensions, accounting BYN 1.138 billion in the state budget, i.e. more than 56% of the expenditures for social policy, there are more than 100k of recipients. However, only a few hundred from all over Belarus participated in a rally in support for Lukashenka.
Any such structure is unlikely to provide significant aid to the authorities in the fight against the protest movement. Meanwhile, there is a risk that some disloyal 'pensioners', may receive weapons and risk of weapons being lost due to various reasons.
The civilian militia idea is characteristic of Lukashenka's usual approach of "seeking cheap solutions to costly issues". It is worth recalling that, having initiated the creation of 120,000-strong territorial troops in 2011, Lukashenka was guided, among other things, by considerations of their relatively insignificant costs (the costs were primarily associated with periodic military training of the assigned personnel). Territorial troops were also intended to support the MIA activities. This task was regularly practised during defence exercises.
Until now. the possibility of using territorial troops to suppress protests has not arisen due to both, the lack of need and the impossibility of ensuring their loyalty. The formation of an auxiliary armed group is inadvisable and is unlikely to meet with approval from security forces' leadership, however, state propaganda is likely to continue to use the suggestion to intimidate society.
You have been successfully subscribed
Subscribe to our newsletter
Once a week, in coordination with a group of prominent Belarusian analysts, we provide analytical commentaries on the most topical and relevant issues, including the behind-the-scenes processes occurring in Belarus. These commentaries are available in Belarusian, Russian, and English.
EN
BE/RU
Situation in Belarus
November 20 – November 26