Election campaign 2020 (Archive)
Amid mounting repression, a smaller crowd attended Sunday's march
The situation has not changed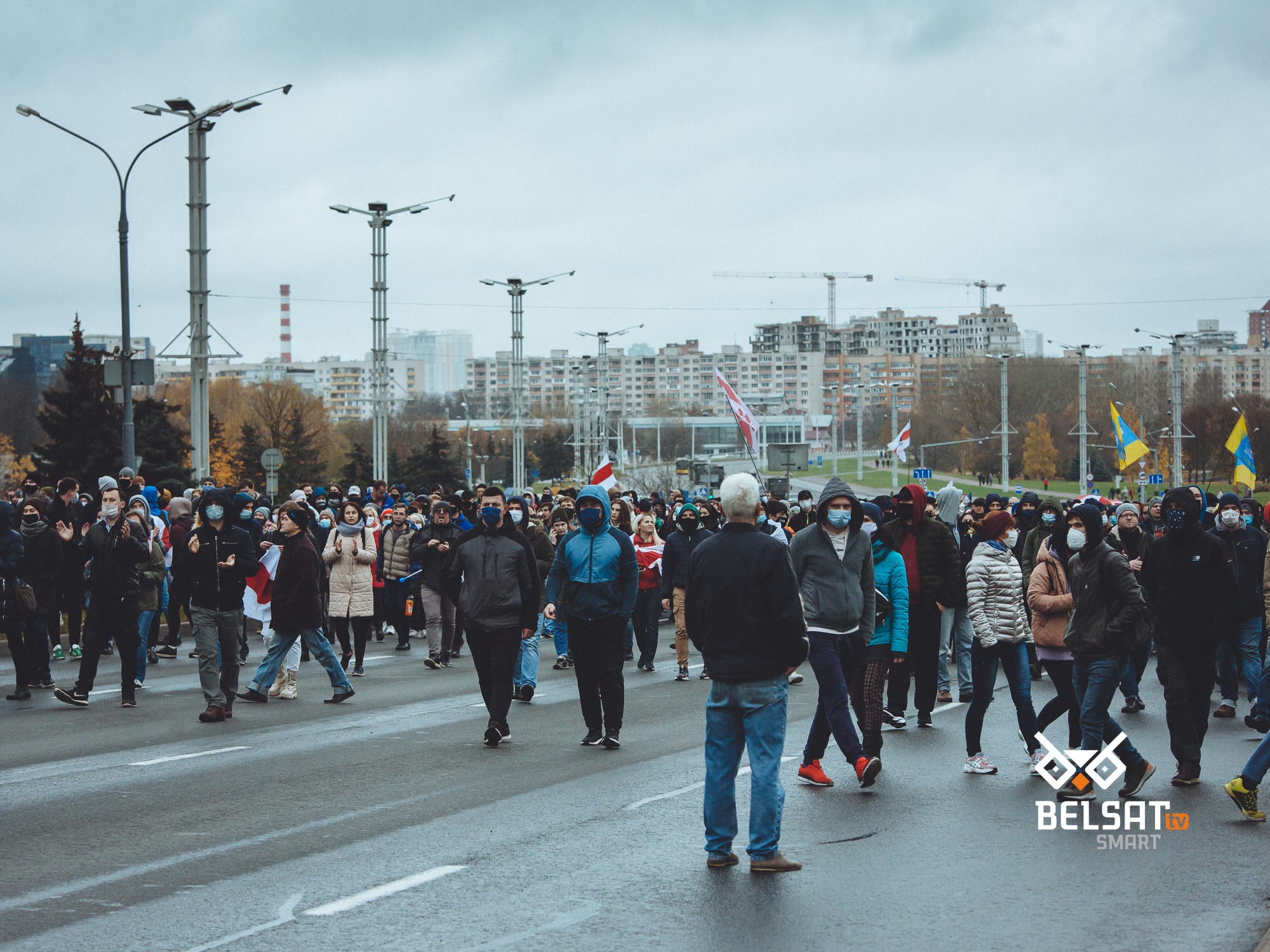 By Valeria Kostygova
As repression mounts, new people and groups join the protests, however, this cannot entirely offset the effects of mass arrests and crackdowns have prevented many rallies. On Sunday, November 8th, security forces intercepted would-be participants, preventing them from reaching assembly points and resulting in a smaller crowd marching through the streets of Minsk.
On Monday, November 2nd, the authorities announced that criminal, in addition to the administrative investigation, was launched against 230 of more than 300 people detained on November 1st. This fact, however, did not stop pensioners from gathering for a march on Monday afternoon, however, it prevented many rallies from being held throughout the week, including on weekends.
In the past week, some of those who had appealed to the Investigative Committee seeking to bring criminal proceedings against the police regarding torture and violence began receiving official rejections.
Local community/neighbourhood gatherings have also become dangerous: many musicians were detained during local events.
The authorities decided to crack down on student protests with a combination of expulsions, arrests, and criminal charges. Senior officials were sent to higher education institutions to hold 'political briefings' (aka political propaganda) for students, especially to universities where teachers showed great solidarity with students.
Participation in the workers' strike movement is growing slowly despite de facto failed strikes. Those who decide to go on a strike often face criminal and administrative charges.
The Belarus Solidarity (BYSOL) foundation's deadline for security officials to switch sides expired on November 8th, after which they will not consider requests for assistance. The deadline appears to have been a double-edged sword: on the one hand, there was a slight increase in resignations from law enforcement agencies, but on the other, the violence of the remaining officers increased.
The number of arrested people was growing towards the end of the week, reaching some 20k since the beginning of protests.
For the first time since the protests began, the Saturday march did not take place as the security forces did not allow women to gather and detained some women walking in pairs. On Sunday, November 8th, security forces prevented the amalgamation of smaller groups of participants into a larger crowd and intercepted individual would-be participants, brutally detaining them. Due to bad weather, increased repression and the fatigue of protesters, the Sunday march was shorter and had fewer participants all the previous instances. Despite this, according to human rights activists, more than 1000 people were detained in Minsk on Sunday.
You have been successfully subscribed
Subscribe to our newsletter
Once a week, in coordination with a group of prominent Belarusian analysts, we provide analytical commentaries on the most topical and relevant issues, including the behind-the-scenes processes occurring in Belarus. These commentaries are available in Belarusian, Russian, and English.
EN
BE/RU
Situation in Belarus
September 11 – September 17