Security issues
Is Ukraine preparing to extend hostilities to Belarusian territory?
The situation has not changed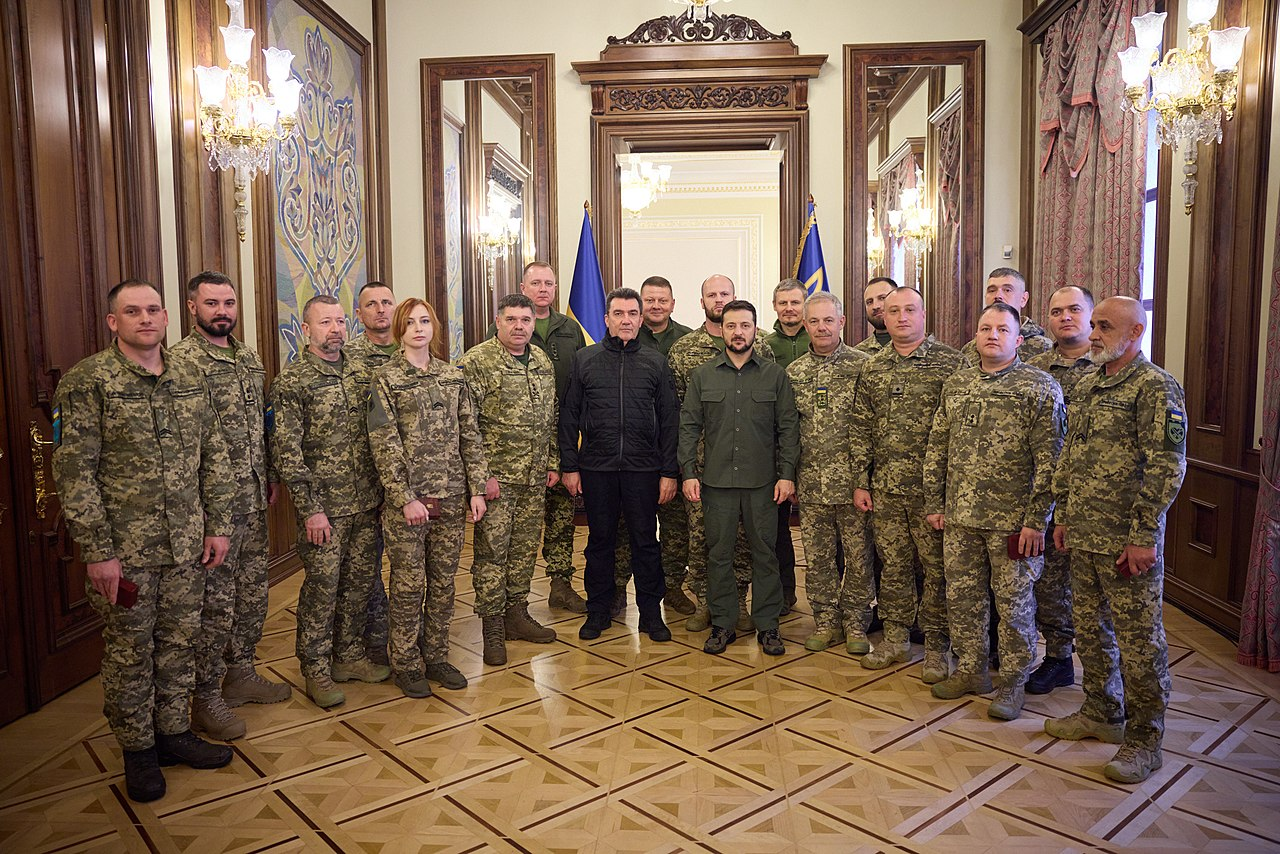 Meeting of the President with servicemen of the Territorial Defense Forces of the Ukrainian Armed Forces, 2 October 2022. This file comes from the website of the President of Ukraine and is licensed under the Creative Commons Attribution 4.0 International license.
The number of Western allies insisting that Ukraine refrain from attacks on Russia and Belarus is diminishing, with the remainder consolidating around France. The strategy of the Armed Forces of Ukraine involves not only the liberation of their occupied territories but also the extension of military operations to the enemy territory – Russia and Belarus.
France has refused to supply Ukraine with a digital terrain elevation map of Belarus containing detailed information about objects that can interfere with flights, such as power lines, wind turbines, radars, and anti-aircraft batteries. Such maps allow drones and other aircraft to fly at very low altitudes and in poor visibility.
Paris defended its decision because it supports Ukraine in defending its territory but will not contribute to operations in other countries. Ukraine turned to France only when it received refusals from other coalition members. Nothing is surprising about this position. Paris has made repeated efforts to avert the participation of Belarusian armed forces in the war, and drone strikes on Russian targets in Belarus could provide a casus belli for the Belarusian leadership, undermining French strategy.
German Defence Minister Boris Pistorius responded that a victim of aggression has the right to strike enemy territory during hostilities to (for example) cut off supply routes. It would be "completely normal" for Ukraine to do this to Russia, and "so long as cities, civilians, [and] civilian targets are not attacked, you will have to put up with this."
Last year, describing the prospects for the 2023 military campaign, the Ukrainian military leadership pointed out that ending the war would require not only the complete liberation of the occupied territories of Ukraine but also the extension of hostilities to the territory of its opponents, primarily Russia. Western allies did not initially support such an approach due to fears of a possible Russian nuclear escalation of the conflict. Still, since Russia has begun preparations for using tactical nuclear weapons against a Ukrainian counteroffensive and intends to deploy such weapons to Belarus by July of this year, this reservation loses any military-strategic meaning.
It is significant that in the United States, former high-ranking officials and the military have voiced support for Ukrainian strikes against Belarusian military facilities if Belarusian territory is once again used to attack Ukraine. Washington previously asked the Ukrainian authorities to refrain from strikes on Russian territory for political reasons but now does not object to Ukrainian strikes against Russian formations in Belarus.
According to some Western estimates, extending hostilities to Belarus will destabilise the future Russian use of Belarusian territory and airspace. It may even cause Belarus to withdraw from the theatre of operations. An attack by Belarusian and Russian forces within the "Regional Group of Forces" framework will be defeated with significant casualties and lead to retaliatory strikes against Belarus, increased sanctions, and corresponding social tensions. Minsk wants to avoid this scenario just as much as Kyiv, so there is no logic for such steps, although some Western countries, such as France, think differently.
The successful drone attack on a Russian A-50U AWACS aircraft at the Machulishchy airfield on February 26th demonstrates that the Ukrainian/Western stance is evolving. Although Ukraine did not claim responsibility, and a recent leak from the Pentagon only indirectly indicates the involvement of Ukrainian special services, the attack demonstrates the possibility of military operations on Belarusian territory.
You have been successfully subscribed
Subscribe to our newsletter
Once a week, in coordination with a group of prominent Belarusian analysts, we provide analytical commentaries on the most topical and relevant issues, including the behind-the-scenes processes occurring in Belarus. These commentaries are available in Belarusian, Russian, and English.
EN
BE/RU
Situation in Belarus
November 27 – December 3