Security issues
Belarus is furthering its military integration with Russia
The situation got worse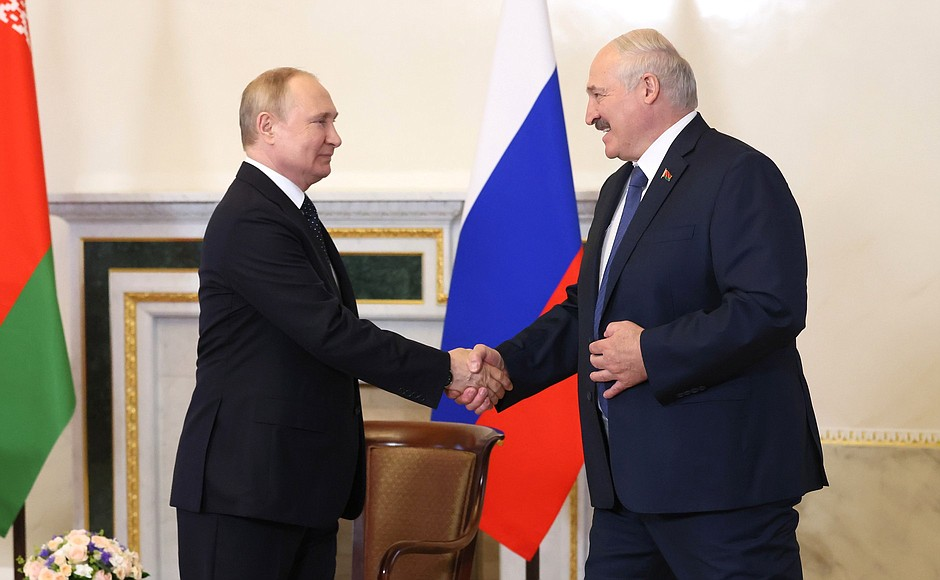 Minsk and Moscow have jointly planned for the year 2024, considering potential threats to the Union State from Western sources. These plans include reinforcing the shared defense space of the Russian Federation and Belarus along their western borders. Additionally, they are preparing a regional troop grouping as a response to the ongoing Ukraine conflict. Despite the reduction in the Russian military presence in Belarus, the Belarusian Armed Forces are gearing up for potential military actions against Ukraine, taking inspiration from Russian experience.
A joint meeting of the Ministries of Defense of Belarus and Russia took place in Moscow. It underscored Belarus's role as a strategic partner and a dependable ally of Russia, especially important when tensions rise along the Union State's borders due to NATO's openly hostile activities.
Moscow asserts that NATO regularly conducts large-scale military exercises simulating conflicts with Russia and Belarus on the alliance's eastern flank. This includes practicing the use of nuclear weapons, involving the United States' strategic aviation and NATO's tactical nuclear forces. The Kremlin is also concerned about the possibility of Finland joining the North Atlantic Alliance and organizing joint events with Sweden, further escalating tensions. Moreover, alongside economic sanctions, there is clear military support for Ukraine from Western nations.
In response to these perceived threats, Russia, in cooperation with Belarus, is taking measures to reinforce their western borders and the shared defense space, taking lessons from a "special military operation." These measures include:
A well-established mechanism for joint military planning to ensure the effectiveness of the regional troop grouping and the Unified Regional Air Defense System (URS Air Defense).
Mutual military-technical cooperation and collaboration between the defense-industrial complexes of both countries.
Joint operational and combat training activities conducted bilaterally and in a multilateral format.
The establishment of combat training centers to enhance the training of Russian and Belarusian military personnel.
Work on setting up storage facilities for Russian non-strategic nuclear weapons in Belarus and training personnel in their use.
The provision of military-technical assistance by the Russian Federation to Belarus, including equipment repairs for the Belarusian Armed Forces at Russian defense industry enterprises.
Cooperation in military personnel training, including Belarusian military personnel studying in Russian military universities and participating in various advanced training courses at different training centers of the Russian Armed Forces.
The heads of the military departments of Belarus and Russia, along with board members, discussed various current issues of cooperation, such as:
o Enhancing the effectiveness of cooperation to counter attempts to distort the history of the Great Patriotic War of 1941–1945.
o Implementing the Plan of Joint Actions to Ensure the Military Security of the Union State for 2022–2024.
o Activities of combat training centers for joint training of specialists from the air force and air defense forces of Russia and Belarus.
o The use of the regional troop grouping (RTG).
o Interaction between the armed forces of Belarus and Russia in the field of electronic warfare.
o Signing a cooperation plan between military departments for 2024 and a work plan for the joint Board of the Ministries of Defense of Belarus and Russia for 2024.
Meanwhile, from the Ukrainian perspective, the military cooperation between Minsk and Moscow primarily revolves around Belarus serving as a training base for Russian conscripts. Roughly 24,000 Russian conscripts are expected to receive training in Belarus from October 2022 to July 2023. Furthermore, the Belarusian Armed Forces conduct demonstration exercises and display readiness to use regional troop groupings and air defense systems, potentially to exert pressure on Ukraine, prompting it to maintain a portion of its forces along the Belarus border. Concurrently, the number of Russian military personnel in Belarus has been reduced to 2,000 individuals, focusing primarily on missile attack warning, long-distance communications, and the operation of Russian air defense and aviation systems, including three Su-30SM combat aircraft and two Su-24MR reconnaissance aircraft.
At the same time, the Belarusian military continues to practice mechanized unit combat operations, drawing from the Ukrainian conflict experience. They are working on issues related to tank and mechanized unit coordination, the usage of attack aircraft, and the ability of unit commanders to employ unmanned aircraft. Belarusian military personnel are also receiving instruction from Wagner Company instructors, who are assisting in the training of Russian Armed Forces.
You have been successfully subscribed
Subscribe to our newsletter
Once a week, in coordination with a group of prominent Belarusian analysts, we provide analytical commentaries on the most topical and relevant issues, including the behind-the-scenes processes occurring in Belarus. These commentaries are available in Belarusian, Russian, and English.
EN
BE/RU
Situation in Belarus
November 27 – December 3