The ruling elite
Redistribution of resources in favor of the state sector and security forces, and the ideologicalization of state-owned companies are ongoing practices
The situation has not changed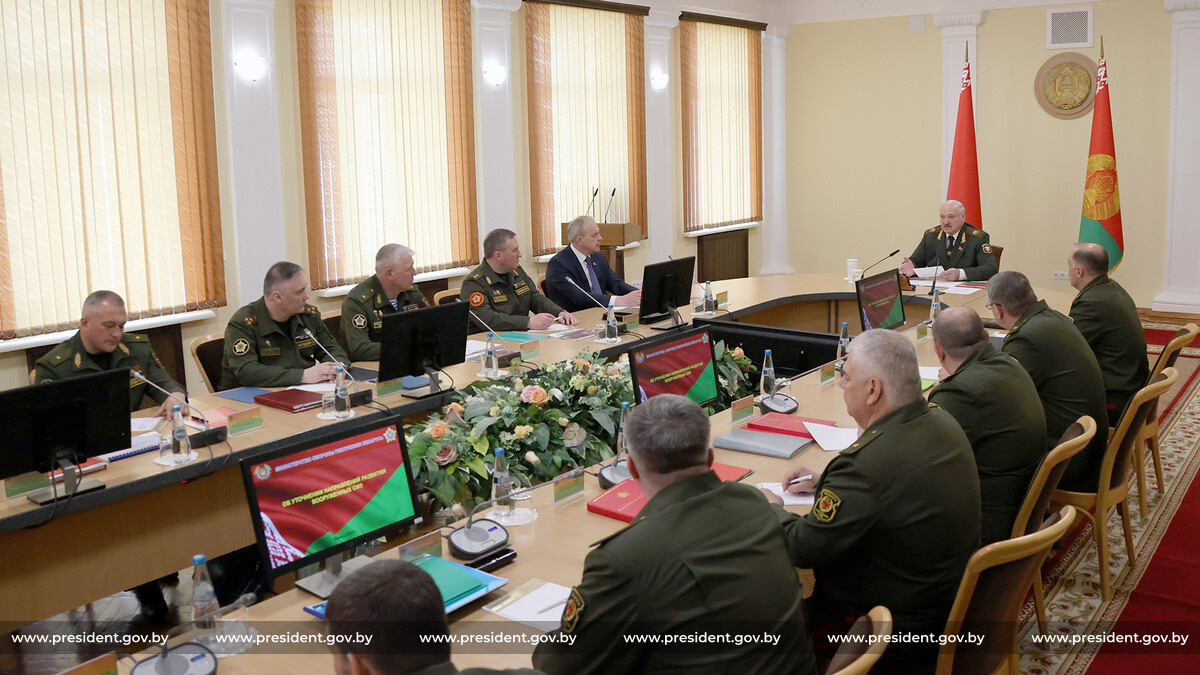 Image: president.gov.by
The ruling class prioritizes supporting the security apparatus and implementing harsh measures against opponents, even at the expense of worsening conditions in the labor market and accumulating imbalances in the economy. Kachanova highlights the ideological role of state-owned companies in shaping a workforce loyal to Lukashenka's regime, while the security forces work to remove dissidents from the public sector.
The Belarusian leadership consistently reallocates budget expenditures towards the security forces and national defense, often at the expense of other areas.
Lukashenka plans to personally intervene in the government's price regulation activities with the aim of garnering populist support amid low inflation. However, these measures may also involve certain concessions for businesses and criticism of the government.
The ruling class is gradually attempting to reform the most problematic areas, such as the pension system. Nevertheless, these reforms have not yielded positive results, primarily due to a lack of trust in state institutions and the country's financial system among the population. Meanwhile, the pension fund's capacity is decreasing due to a deteriorating demographic situation and a shrinking working-age population. More than BYN 1 million has been injected into the Social Protection Fund to address the fund's shortfall.
Simultaneously, significant losses in the labor market, resulting in reduced payments to the FSAN, are linked to widespread repression against groups perceived as disloyal and the emigration of highly skilled professionals. Deputy Minister of Internal Affairs Karpiankou reported that approximately 350,000 individuals, perceived as opponents of Lukashenka's regime, left the country after 2020.
Since the start of the year, the economy has lost nearly 6,200 individual entrepreneurs, primarily due to restrictive government policies towards small businesses and the emigration of IT sector specialists. For the past two years, no new IPs have been registered in Minsk, purportedly for "technical reasons."
Despite recognizing the scale of migration and its negative impact on the economy due to a reduced employed population, the ruling class persists in coercing society towards depoliticization and loyalty.
The ruling class anticipates supporting economic growth through investments in the public sector while simultaneously intensifying ideological efforts within state-owned companies and purging dissidents.
Regime guards continue systematic sweeps of regions and state institutions to eliminate dissidents. In Karelichy, riot police detained employees from the polyclinic, the House of Culture, and the district executive committee.
Supporting state-owned companies while keeping employment low exacerbates economic imbalances, leading to increased inventory.
Consequently, the ruling class persists in restricting private businesses and reallocating resources to support the loyal state sector of the economy.
You have been successfully subscribed
Subscribe to our newsletter
Once a week, in coordination with a group of prominent Belarusian analysts, we provide analytical commentaries on the most topical and relevant issues, including the behind-the-scenes processes occurring in Belarus. These commentaries are available in Belarusian, Russian, and English.
EN
BE/RU
Situation in Belarus
November 27 – December 3