Election campaign 2020 (Archive)
Mass pickets and arrests; slogans "Freedom" and "Begone!"
The situation has gotten better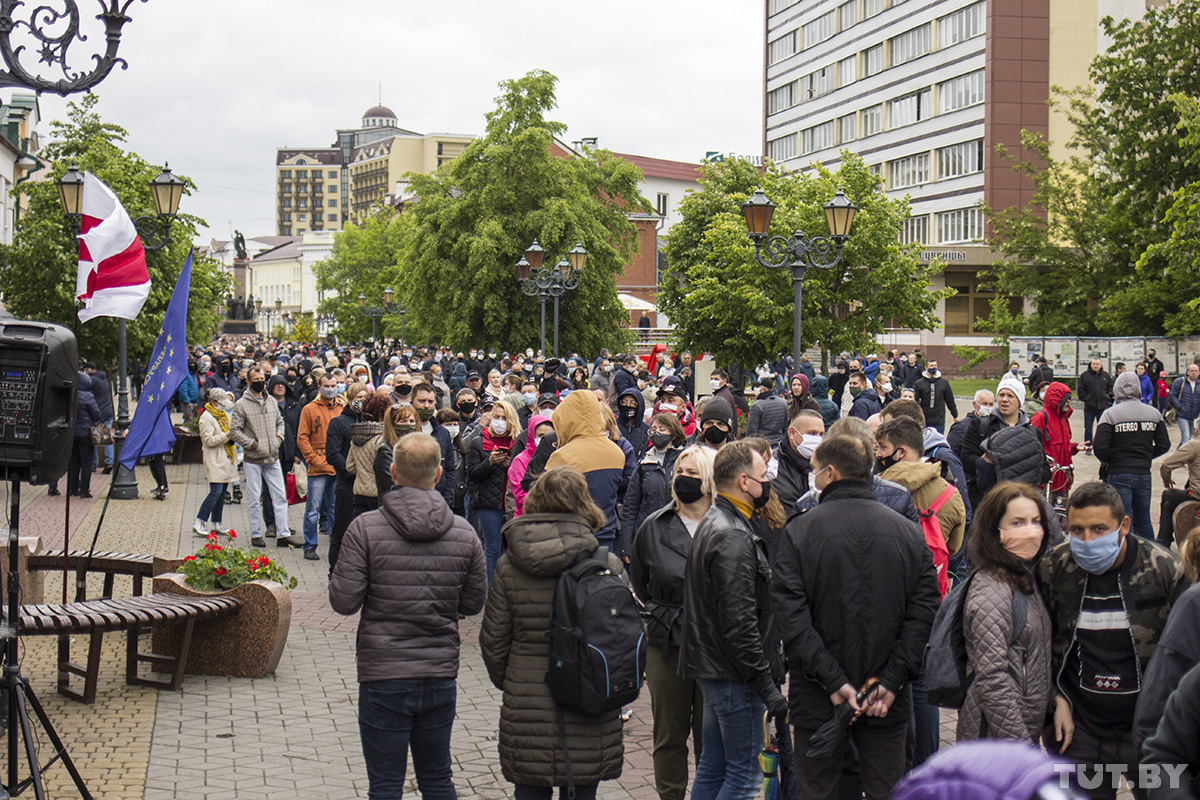 By Dzianis Melyantsou
Contenders continued to collect signatures, make field trips, and communicate with the media. Haidukevich withdrew from the presidential race. Lukashenka made tough comments about his rivals in the presidential campaign. Tsikhanouski was detained by police during a rally in Hrodna. On May 31st, after Tsikhanouski's arrest, pickets collecting signatures saw an unprecedented number of people in Minsk, Brest, Homiel, Vitsebsk, Hrodna, Maladzechna and other cities.
Signature collection
Presidential runners continued to collect signatures for the nomination as candidates. Early last week, Belaya Rus GONGO announced that Lukashenka's initiative group had collected 200k signatures of 100k required.
Signatures collected by other bidders as of May 28th:
Viktar Babaryka – 50,000
Nataliya Kisel – 37,840
Siarhei Cherechen – 21,250
Valery Tsepkalo – almost 20,000
Andrei Dzmitryeu – 16,000
Anna Kanapatskaya – over 10,000
Yury Hubarevich, Volha Kovalkova, Mikalai Kazlou, and Uladzimir Nepomnyashchykh initially had no plan to collect signatures. They registered their initiative groups to reach out to their audiences within the election legislation. Siarhei Tsikhanouski voiced a similar attitude towards the signature collection.
In Mahileu, Homiel, Baranavichy, and Hrodna voter meetings with the participation of Tsikhanouski gathered crowds, filling all available space. Tsepkalo appealed to voters in Mahileu, and Cherechen in Homiel. Anna Kanapatskaya opened the second headquarters in Minsk. After Tsikhanouski's arrest, pickets in support for Sviatlana Tikhanouskaya on May 31st in Minsk, Brest, Homiel, Vitsebsk, Hrodna, Maladzechna, Rechytsa, Zhlobin, Pinsk, Maryina Horka, Babruisk, Lida, Orsha, and Barysau gathered an unprecedented number of people, even greater than previous pickets with Tsikhanouski himself. People chanted "Freedom" and "Begone!" and queued not only to leave their signatures but also to speak through loudspeakers and with journalists. In Minsk center, the queue sustained for seven hours.
Haidukevich's withdrawal
On May 26th, Aleh Haidukevich held a press conference to announce his withdrawal from the race. He urged his supporters to vote for the incumbent president and accused his rivals of the desire to tear the country apart.
Detentions and authorities' attitude
On May 29th, visiting the Minsk Tractor Plant, Lukashenka lashed out at his prospective rivals. He accused Babaryka of bluffing and deceit, hinting at his alleged ties with Russia, and inviting to ponder about his employment after the elections. Speaking about Tsepkalo, the president recalled his dismissal from the High Technology Park, alleging that he was hiding something from the public. Lukashenka called Tsikhanouski a "scumbag" and hinted at his ties with Russia.
On May 29th, after Lukashenka's speech at MTZ, Tsikhanouski was detained during a signature collecting picket. Streams with Tsikhanouski's detention were viewed over 1 million times on YouTube alone. He and seven other detainees were later transported to Minsk. On the morning of May 31st, dozens of members of the Sviatlana Tsikhanouskaya initiative group and Mikalai Statkevich were detained. The authorities have demonstrated that they aim to enforce tough control over the presidential campaign and prevent excessive politicization of the population, not to allow public protest. However, judging by the sheer number of people participating in pickets on May 31st across the country, a public protest, in fact, has taken place.
Media and communication
Tsepkalo gave a major interview with TUT.by last week. He spoke about cornerstones of his political program and clarified the high-profile case related to the construction of his house. Tsikhanouski responded to questions by Russian Kommersant. Babaryka and Tsepkalo also responded to Lukashenka's statements about his rivals. After Tsikhanouski's detention, all major contenders, so far, except Kanapatskaya and Cherechen, expressed their support for him in one way or another. In addition, most popular contenders have significantly increased their online audiences: Tsikhanouski's Youtube channel "A Country for Life' up to 219k subscribers and Telegram to 41k followers; Babaryka –10k on Youtube and 7k on Telegram; and Tsepkalo – 3.5k and 1k, respectively.
You have been successfully subscribed
Subscribe to our newsletter
Once a week, in coordination with a group of prominent Belarusian analysts, we provide analytical commentaries on the most topical and relevant issues, including the behind-the-scenes processes occurring in Belarus. These commentaries are available in Belarusian, Russian, and English.
EN
BE/RU
Situation in Belarus
December 4 – December 10