Election campaign 2020 (Archive)
The confrontation with the current authorities is growing amid unyielding mass protests
The situation got worse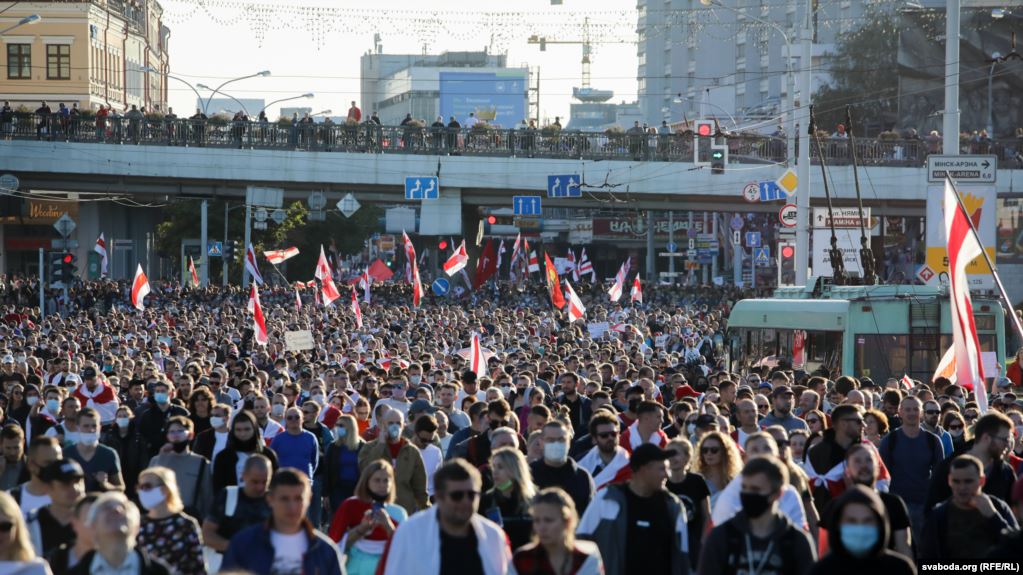 By Valeria Kostyugova
Last week, amid growing repressions by the authorities and the penitentiary system nearly on its knees being unable to digest all those detained and arrested, mass protests continued, involving new social groups. The Coordinating Council is assembling the negotiation team, whilst the marches on September 19th and 20th further confirmed people's commitment to continue protests.
Protest
On workdays, public activity in cities across Belarus has moved to residential districts. Local communities are shaping up and many have already designed and approved local symbols (flags). There are more people involved in local community activities now than ever been members of some republican political parties.
New organizations and enterprises have joined the protest. On September 20th, workers of the Kozlov Minsk Electrotechnical Plant wrote a letter to the government and the Supreme Court demanding the current president's resignation, holding new elections, and to stop violence and bring those liable for election fraud and violence, to justice.
On September 17th, newspapers and online media in Belarus published their reports without photos, leaving blank frames saying: "here there should have been a photo, but the photojournalist was detained".
Over 50 lawyers filmed a video address in support for Maxim Znak, a member of the Coordination Council Presidium (earlier, lawyers published a written appeal signed by over 1800 lawyers from all over the world) and provided written guarantees requesting to change the interim measures. Last week, Maxim Znak went on a hunger strike after being charged with seeking to harm national security.
On September 18th, a man has set himself on fire near the Smalevichy District Police Department; he survived but was seriously injured.
On September 18th, Siarhei Dyleuski, a member of the Coordination Council Presidium and a member of the MTZ strike committee, was released. All members of the strike committees are facing unprecedented pressure by the local authorities.
On September 19th, a spontaneous rally took place near an orphanage where the authorities placed a 6-year-old child of an activist detained the day before.
Some 10k people participated in the Saturday Women's March on September 19th, the Interior Ministry reported about 430 people being detained of which 385 were released on the same day.
On September 20th, in anticipation of the Sunday March, the authorities used military and special equipment to block the center of Minsk, however, this has not stopped the participants, whose number exceeded 100k. Sunday rallies also gathered crowds in other cities across Belarus. The reports said 433 people were arrested.
Repression
The repressive machinery is gaining strength, increasingly disregarding the law. On September 14th, an administrative court referred to the contract with the lawyer concluded back in August as indirect evidence of the defendant's criminal intent. 15 people were held liable for requiring security officers to introduce themselves. Besides, it became known, that the passport of the head of the Catholic Church in Belarus, Tadeusz Kondrusiewicz, was invalidated.
The Interior Ministry is lobbying a draft law, proposing to anonymize police officers witnessing in courts, which is already a common practice: they use fictitious names and wear balaclavas in trials held over skype. The Interior Ministry also started sending SMSs en mass requesting to report violations their capacities are overstretched.
On September 19th, NEXTA Telegram channel released a list of 1,000 security officials, including their data.
Over 11k people have fallen victims to arbitrary detentions and arrests in Belarus since the beginning of protests.
You have been successfully subscribed
Subscribe to our newsletter
Once a week, in coordination with a group of leading Belarusian analysts, we provide analytical commentaries to the most topical and relevant issues, including on behind the scenes processes ongoing in Belarus, in Russian and English.
EN
RU
Situation in Belarus
May 22 – May 28