Belarus-Russia relations
Big Brother pays a visit
The situation has not changed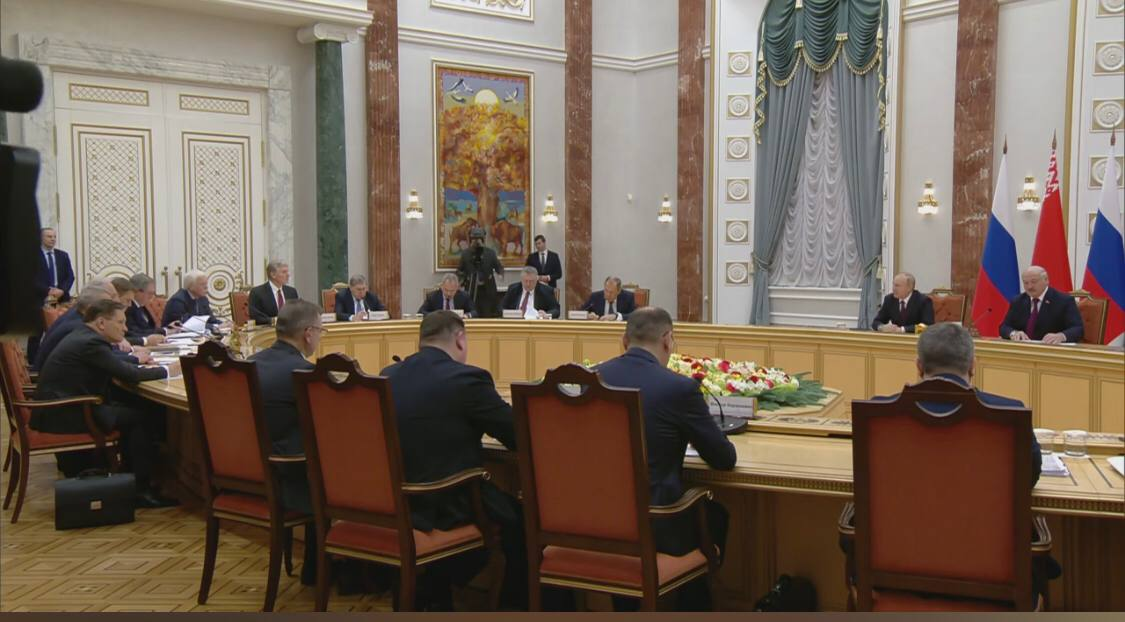 Фото: https://t.me/worldprotest/25593
Vladimir Putin is expected to pay his first visit to Minsk in three years on Monday, December 19th. Old, allied contradictions, which seem to have long faded into the background in the new global situation, are beginning to bubble to the surface.
Putin is leaving his bunker and heading to Minsk with a broad government delegation. The visit will begin with a meeting involving all ministers, then a tete-a-tete conversation between Lukashenka and Putin, and finally, a press conference. The agenda includes the implementation of union programs, particularly trade and economic cooperation and joint projects "with an emphasis on import substitution", cooperation in the energy sector and security issues.
These topics are typical for the outgoing year, but no one can confidently say what the real purpose of Putin's visit is. Expert opinion is that, for Lukashenka, the arrival of the owner of the Kremlin is important symbolically irrespective of what is agreed upon or discussed. Although there are well-defined announcements and forecasts, in particular, old (like Sergey Lavrov) allied contradictions resurface.
Lukashenka has already criticised one aspect of integration; gas prices. "The Union program for the formation of a unified gas market provides for specific measures and deadlines, which, unfortunately, in my opinion, have not been implemented. They're just ripped off." The parties understand the single gas market somewhat differently. The Kremlin is like a monopolist dictating the terms of sale, whereas Lukashenka, like a good Soviet supplier, is hungry for exclusive access to a valuable resource.
Another Kremlin wish, of a more general nature, is to create equal business conditions in the two countries. This problematic issue, as well as the gas issue, and barriers to commodity flows, has bedevilled Russian-Belarusian relations for two decades.
It is safe to assume that Lukashenka will ask his counterpart for financial support to offset sanctions imposed due to the adventure in Ukraine. A specific figure of USD 2 billion has been mentioned.
Belarus' further participation in the Russian invasion continues to be a topic of relevance. The Institute for the Study of War (ISW) believes the Russian leader intends to obtain concessions from the Belarusian ruler on integration and create conditions for a new offensive against Ukraine.
One cannot realistically expect substantive announcements, final decisions, and decisive progress from the meeting between Putin and Lukashenka. The World's closest allies do not entirely trust each other and are doomed to wash their hands in the cold water of uncertainty.
You have been successfully subscribed
Subscribe to our newsletter
Once a week, in coordination with a group of leading Belarusian analysts, we provide analytical commentaries to the most topical and relevant issues, including on behind the scenes processes ongoing in Belarus, in Russian and English.
EN
RU
Situation in Belarus
March 20 – March 26