The ruling elite
Redistributing assets: expropriation from opponents and apartments for the military
The situation has not changed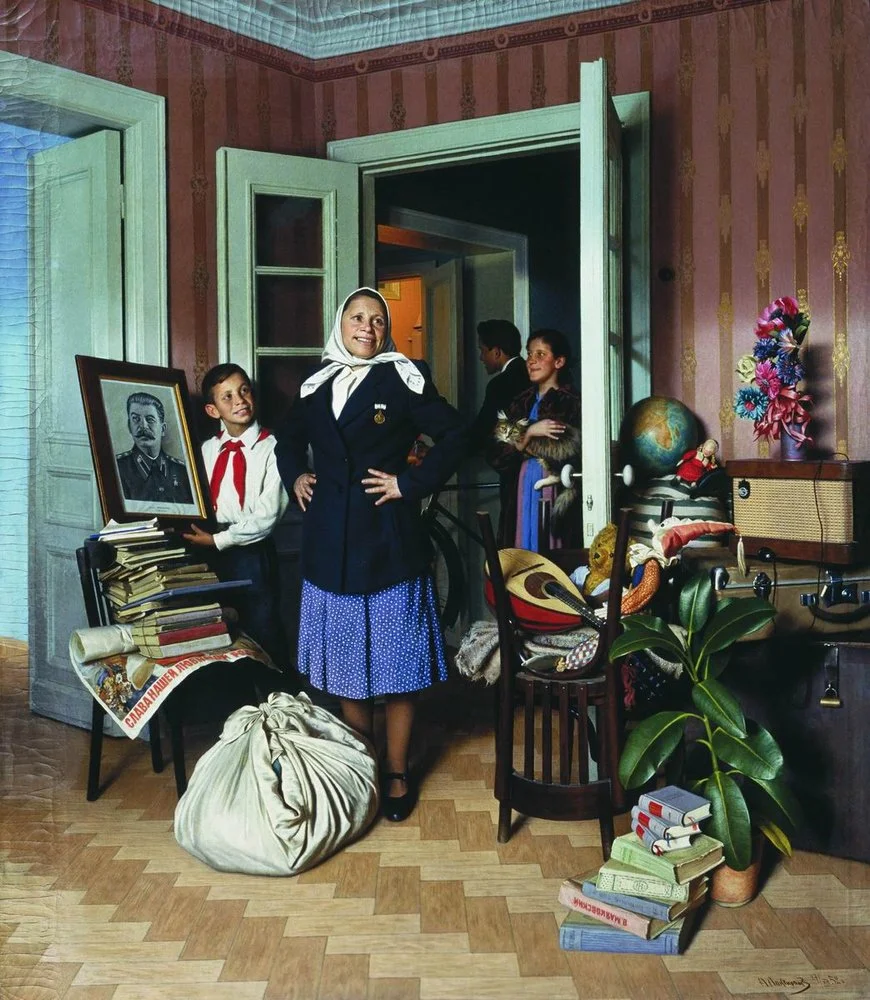 Александр Лактионов. "Переезд в новую квартиру" 1952 год.
The regime continues to repress supporters of change, both at home and abroad. Lukashenka takes additional steps to align the state apparatus with the regime, introducing the death penalty for treason and announcing new housing for loyal soldiers.
The civil rights of regime opponents continue to be curtailed as security forces increase fines and the severity of reprisals against critics of the regime and state bodies. The KGB has launched a special investigation against restaurateur Vadzim Prakopjeŭ while the Investigative Committee targets Sciapan Puciła and Jan Rudzik from the NEXTA project.
Pressure on the legal community continues as lawyers representing Siarhei Tsikhanouski and Maria Kalesnikava are deprived of their licenses. Meanwhile, the introduction of the death penalty is threatened for "treason" against the Lukashenka regime.
The government reports that the economy shows positive trends and stable financial and macroeconomic indicators. Belstat reported record deflation in November, which is likely to convince the leadership that interventionist economic management and price regulation policies are correct.
The authorities continue to regulate prices, and the Ministry of Finance announced that it will expropriate business profits deemed to derive from price increases.
Resources continue to be redistributed to favour the security forces. Lukashenka held a meeting to discuss military housing, aiming to ensure the loyalty of the young members of the security forces from underprivileged sectors by granting them leased apartments which will transfer to full ownership after 25 years of service. Meanwhile, seizures from businesses and state officials continue, as the number of detected cases of criminal corruption rises by 35%.
The discount chain "Ostrov Chistoty" paid all tax arrears and other financial claims from government inspectors.
Standards of living gradually decline, but open discontent is muted due to the war in Ukraine and the brutality of the security forces. People fall back on their savings, becoming net sellers of hard currency as the deteriorating economic situation forces businesses to reduce investment and close enterprises.
Limited resources force the state to withdraw support for unprofitable medium-sized enterprises in the regions, such as the cannery being liquidated in Bychaŭ.
Nevertheless, employment remains relatively high, partly due to emigration. Officials announce their intention to achieve full employment as the regime fears that high unemployment would lead to renewed protest activity.
Both the brutality of the Lukashenka regime and the disconnect from the population continue to increase.
You have been successfully subscribed
Subscribe to our newsletter
Once a week, in coordination with a group of leading Belarusian analysts, we provide analytical commentaries to the most topical and relevant issues, including on behind the scenes processes ongoing in Belarus, in Russian and English.
EN
RU
Situation in Belarus
May 15 – May 21