Society and political parties
The opposition and civil society held Freedom Day celebrations in Minsk and Grodno
The situation has gotten better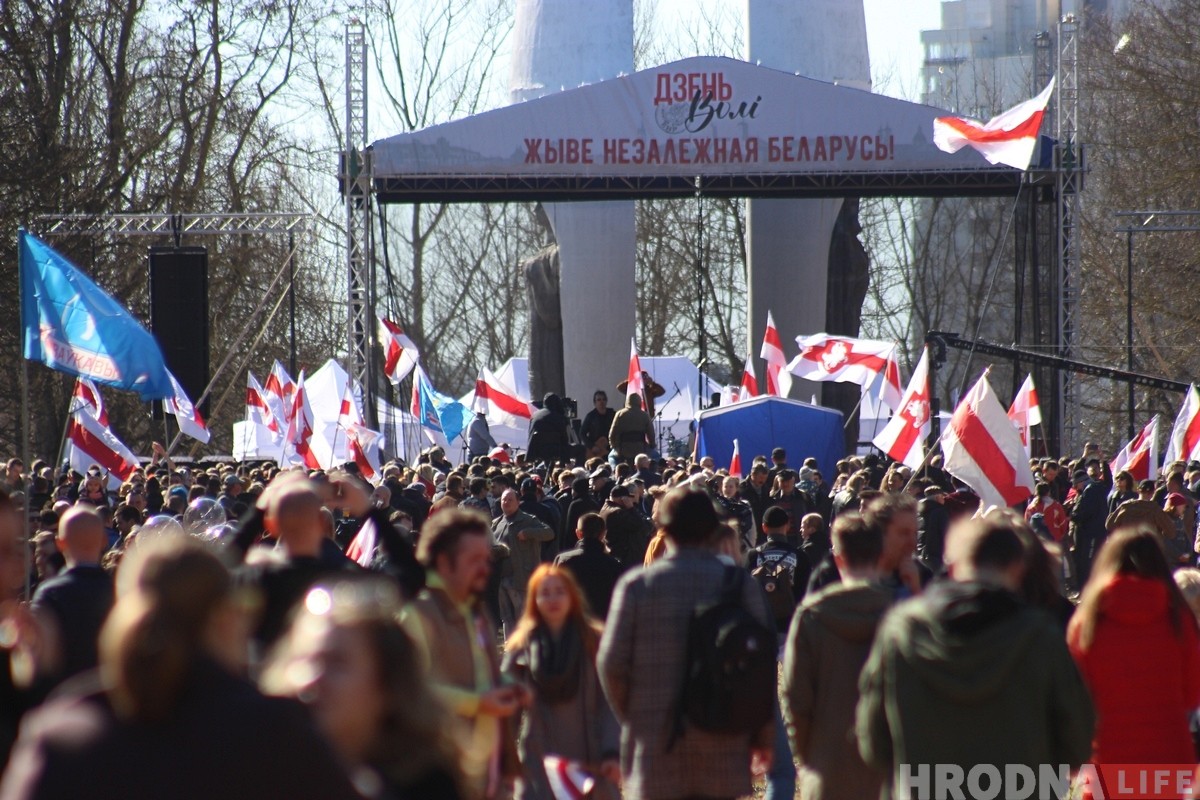 On March 23rd in Grodno and on March 24th in Minsk, the 101st-anniversary celebrations of the creation of the Belarusian People's Republic (Freedom Day) were held. Organisers in Minsk and in Grodno managed to mobilize their audiences, however, due to the last-minute authorization granted by the authorities and the celebration not being a milestone one, Freedom Day festivities did not appeal to new audiences this time.
Freedom Day celebrations in Grodno on March 23rd were held not far from the city centre in Kalozhsky park. Organizers included, on the one hand, 'usual suspects' – local activists from Tell The Truth, the Belarusian Popular Front and the United Civic Party (Bondarchuk, Saranchukov and Salyanik respectively), who organized Freedom Day celebrations two years in a row and on the other – bloggers who were engaged in the organization of last year's Freedom Day celebrations – Palchis, Motolko and Belous. According to different estimates, three to two thousand people participated in the celebrations. Many came to Grodno from Minsk – the railroad had to add cars to trains on the route Minsk-Grodno. Organisers and music bands addressed the crowd from the stage. They spoke about freedom and independence. The atmosphere was festive and positive.
On March 24th, some two to three thousand people gathered at the Kiev Square in Minsk to celebrate Freedom Day. The organizing committee included leaders of the United Civic Party, For Freedom Movement, the BSDP and the Belarusian Christian Democracy (Kozlov, Hubarevich, Borisov, Rumashevsky and Kovalkova accordingly). In addition, MPs Anisim and Kanopatskaya and the Belarusian Language Society leader, Trusov, addressed the crowd from the stage. In Minsk, as in Grodno, the speakers reiterated the importance of retaining Belarus' independence and institutionalizing the nationalistic symbols. In addition, other issues were raised in Minsk, for instance, the withdrawal from the Union Treaty with Russia and the closure of Russian military bases from Belarus. The BCD leader Severinets and the activist Zmicier Dashkevich also addressed the crowd. In their speeches, they appealed to the authorities, the opposition (Severinets) and those who came (Dashkevich). Dashkevich was detained after the performance.
There was some tension between the organizers of celebrations in Grodno and in Minsk due to fundraising issues. Although the fundraising campaign started much earlier this year as compared with 2018, it was less successful. Funds raised through the campaign were spent exclusively on celebrations in Grodno and organisers in Minsk had to start a new fundraising campaign five days before the event.
Despite the difficult environment for 101 Freedom Day celebrations, including last-minute authorisations, late approvals of scenarios and troubles with fundraising, celebrations in Grodno and Minsk were a success. However, unlike last year, Freedom Day celebrations failed to appeal to non-politicized audiences.
You have been successfully subscribed
Subscribe to our newsletter
Once a week, in coordination with a group of leading Belarusian analysts, we provide analytical commentaries to the most topical and relevant issues, including on behind the scenes processes ongoing in Belarus, in Russian and English.
EN
RU
Situation in Belarus
May 15 – May 21