Society and political parties
Democrats attempt to dissociate Belarus from the ruling regime; radical strategies prevail
The situation has gotten better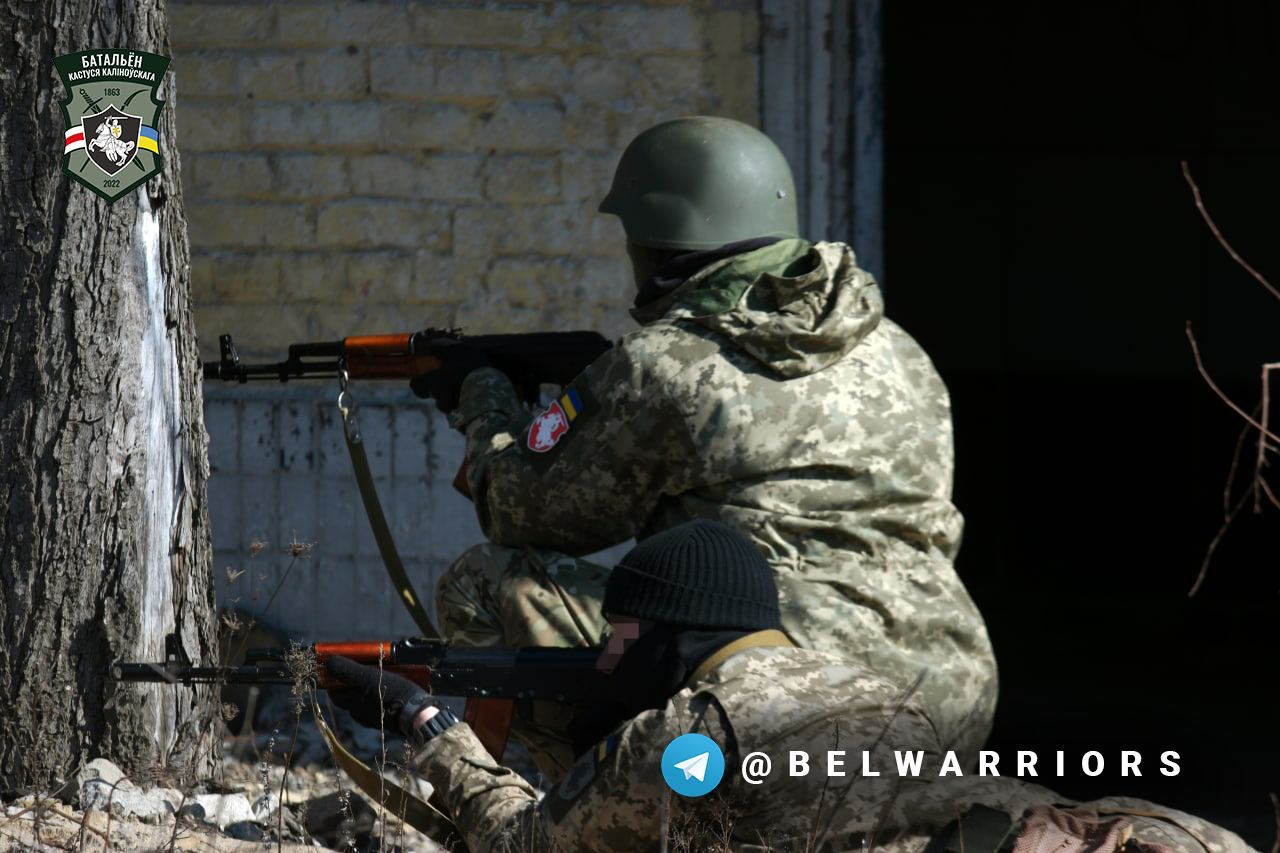 Фота: "Батальён Кастуся Каліноўскага"
Proponents of further Western restrictive measures against Minsk are gaining ground. In response to the harsh suppression of peaceful forms of protest, the Belarusian anti-war movement is sabotaging and damaging railway equipment and mounting cyber-attacks on the support infrastructure of Russian troops.
Democratic forces are trying to mitigate growing hostility towards Belarusians in Western countries stemming from the Lukashenko regime's support for the Kremlin invasion of Ukraine.
Academics, students, and the intelligentsia have expressed solidarity with Ukraine and organised anti-war campaigns. The petition of the Belarusian intelligentsia attracted over one thousand signatures.
Babaryka's team has contacted US representatives regarding protecting the rights of Belarusians.
Independent media play a leading part in mobilising the anti-war movement within the country, which forces state ideologists to launch active propaganda campaigns to consolidate the state apparatus and loyalists.
The rhetoric of democratic forces against the Lukashenka regime is becoming more strident and confrontational. Demands include recognition of the current Belarusian government as illegitimate and a tribunal to consider, the temporary occupation of the country by Russia, the crimes against humanity of the Lukashenka regime, and the synchronisation of sanctions against Belarus and Russia.
Sviatlana Tsikhanouskaya promotes the general agenda of the civil society against the Lukashenka regime with international organisations and in foreign capitals. Following meetings in Switzerland, the leader of democratic Belarus calls on the UN to recognise Belarus as a temporarily occupied country.
The National Anti-Crisis Management, headed by P. Latushka, continues its successful campaign to delegitimise and isolate the Lukashenka regime. The Council of Europe suspends all relations with Belarus due to complicity in Russian aggression against Ukraine. The European Parliament prohibits the admission of Belarusian diplomats and government officials to its headquarters.
Diasporas and foundations continue to focus on supporting Ukraine, helping with medicines, food, and clothing.
BYSOL organises assistance to both Ukrainians and Belarusian volunteers and helps in the evacuation of refugees.
Thanks to 'dvizhBot', the Coordination Council collects more than USD 100 thousand for Ukrainian hospitals and initiates several anti-war projects.
Diasporas of Belarusians in Europe provide asylum for refugees from Ukraine.
The BYPOL organisation of ex-security forces calls for sabotage and damage to equipment to slow down weapons delivery to the Russian army. Transit of military formations through Belarusian territory stops for a week. The "rack and pinion war" in the eastern and southern regions forces the authorities to transfer part of the Belarusian security forces to protect railway tracks in the Homiel and Brest regions.
The demands of supporters of change assume the character of an ultimatum as support for radical action against the Lukashenka regime grows.
You have been successfully subscribed
Subscribe to our newsletter
Once a week, in coordination with a group of leading Belarusian analysts, we provide analytical commentaries to the most topical and relevant issues, including on behind the scenes processes ongoing in Belarus, in Russian and English.
EN
RU
Situation in Belarus
January 23 – January 29