Society and political parties
Democratic forces strengthen their international position, the Joint Transitional Cabinet consolidates supporters of the power scenario
The situation has not changed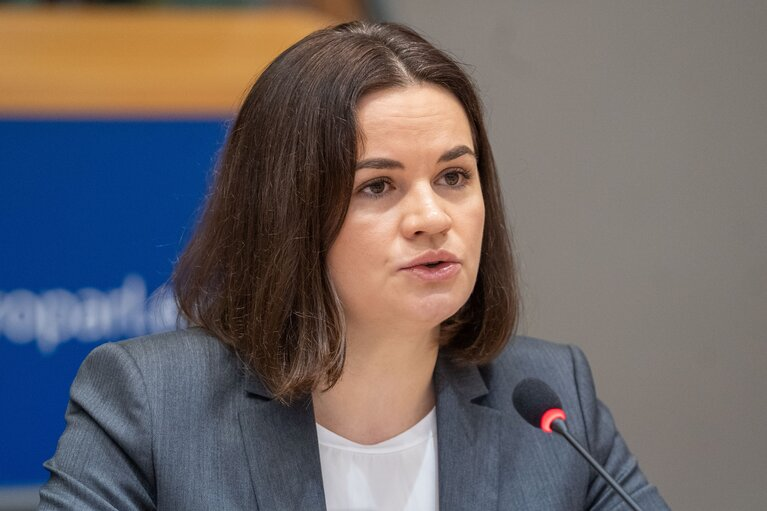 Светлана Тихановская выступает в Европарламенте. 13 октября 2022 года. Фото: europarl.europa.eu
Democratic forces continue to develop relations with European countries and advocate for increasing international pressure on the Lukashenka regime. Tsikhanouskaya's Joint Transitional Cabinet pursues international recognition and consolidates supporters of forceful regime change.
The Estonian Foreign Ministry will send a diplomat to Vilnius for talks with the Joint Transitional Cabinet, while the democratic leader of Belarus, Sviatlana Tsikhanouskaya, will be hosted in Tallinn.
Tsikhanouskaya addressed the European Parliament and called on MEPs to recognise the cabinet as a true representative of the Belarusian people. The official EU response is non-committal, preserving previous positions: the lack of democratic legitimacy of Alexander Lukashenka, continued support for civil society, and demands for new elections. Nevertheless, Tsikhanouskaya discussed the possibility of Belarus' representation by a democratic delegation to the Euronest Eastern Partnership organisation.
The government of Flanders has granted Tsikhanouskaya's cabinet a building in Brussels for the organisation of the activities of the mission of the democratic forces.
Efforts to consolidate and prepare diaspora activists for forceful regime change in Belarus continue. A group of Belarusians in Vilnius have been trained at the school of "Paspalitaje Rušeńnie".
The Council of Europe called on member states for more support for Belarusian human rights defenders.
Cabinet representative Pavel Latushka discussed mechanisms for exerting pressure on the Lukashenka regime with German politicians.
Efforts to establish effective communication with Kyiv and develop military-political cooperation continue, but so far without visible success. Kyiv is considering abolishing visa-free travel for Belarusians, which has a negative impact on relations and weakens support for Ukraine from the Belarusian civil society and foundations. However, part of the Ukrainian establishment supports Tsikhanouskaya's proposals regarding cooperation with the democratic forces and call for a review of approaches to the Belarusian society.
Cyber partisans continue to unmask law enforcement officers and publicise information about the activities of repressive units.
Supporters of forced regime change have strengthened their position due to the Lukashenka regime's refusal to engage in dialogue with the civil society, and the growth of tension in society.
You have been successfully subscribed
Subscribe to our newsletter
Once a week, in coordination with a group of prominent Belarusian analysts, we provide analytical commentaries on the most topical and relevant issues, including the behind-the-scenes processes occurring in Belarus. These commentaries are available in Belarusian, Russian, and English.
EN
BE/RU
Situation in Belarus
November 27 – December 3