Security issues
Tanks on the streets as an element of psychological pressure
The situation got worse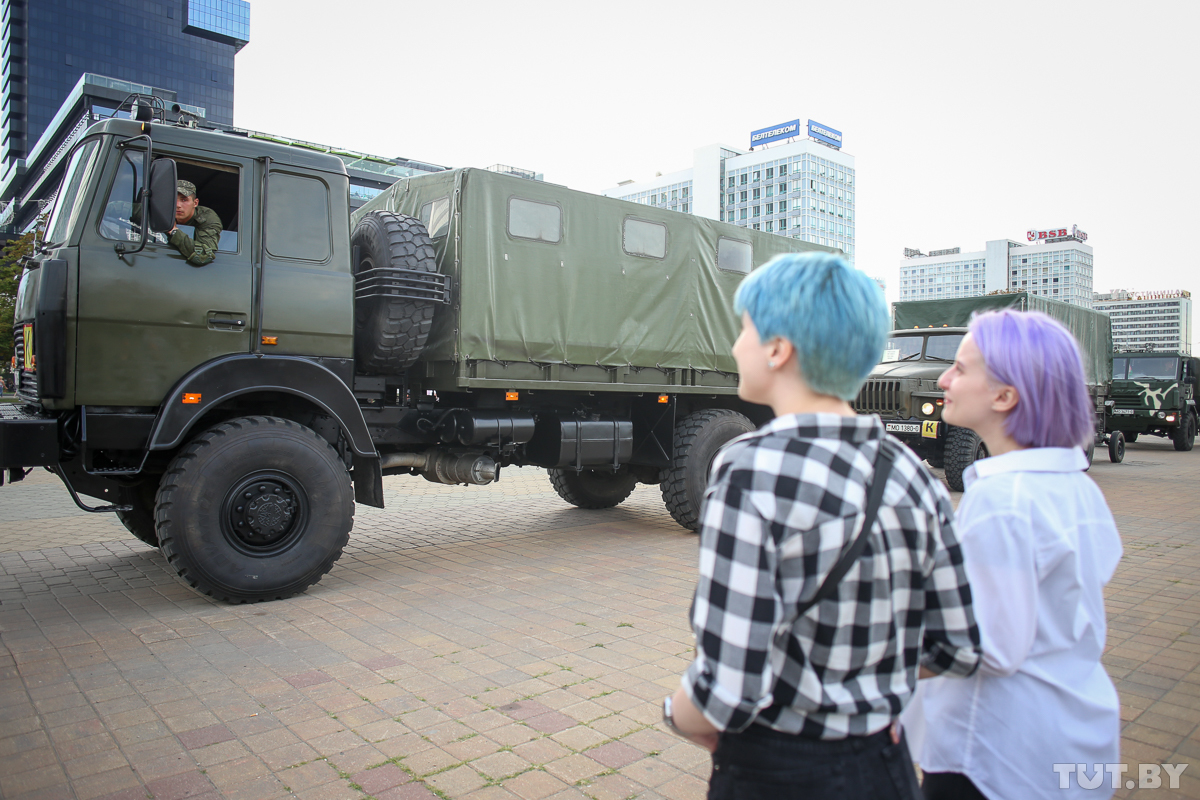 By Andrei Parotnikau
The political situation in Belarus yet does not require the army's involvement in the confrontation. By referring to the possible use of the Armed Forces, current authorities aim to enhance psychological pressure on Lukashenka's rivals and intimidate voters with threats of political instability and internal armed conflict.
On July 16th, 2020, when President Lukashenka visited the 103rd airborne brigade in Vitebsk, State Secretary of the Belarusian Security Council, and former Defense Minister Raukou said that the army could be used to suppress political protests. Allegedly, such protests would pre-empt external aggression.
On July 24th, 2020, when visiting the 5th special Forces Brigade, Lukashenka stated that subdivisions of both, the 5th Brigade and the 120th Mechanized Brigade could be involved in suppressing domestic protests. Simultaneously, he made a reservation that such an option would be extremely undesirable and would be the last resort should a forceful confrontation supported from the outside occur.
So far, opponents of the regime have complied with existing legislation and used existing legal mechanisms and procedures to advance their political issues. Their tactics have prompted the authorities to violate the rules they have established, or, in other words, prompted them to act illegally. Thousands participating in rallies in support for presidential candidate Sviatlana Tsikhanouskaya in Belarusian regions serve to prove the efficiency of such tactics. So far, there are no signs that peaceful protests would spell into a radical and violent confrontation. The clashes between protesters and the police which had occurred were sporadic and usually provoked by the authorities.
The authorities have no reason to involve the army. Authorities' statements about such a possibility are based on false assumptions – "political protests-political destabilization-external intervention-war", – which are promoted by state propaganda to intimidate Belarusians and ensure political demobilization. Ultimately, this tactic would put voters in front of a 'false choice' and prompt them to choose 'a lesser evil' (choosing between Lukashenka or the war). In any case, amid a high-profile campaign and the regime's reduced ability to dictate the political agenda, statements about the possible use of the army for domestic political purposes, are likely to deteriorate the image of the army within society (at least, its most active and educated part).
You have been successfully subscribed
Subscribe to our newsletter
Once a week, in coordination with a group of prominent Belarusian analysts, we provide analytical commentaries on the most topical and relevant issues, including the behind-the-scenes processes occurring in Belarus. These commentaries are available in Belarusian, Russian, and English.
EN
BE/RU
Situation in Belarus
September 11 – September 17