Election campaign 2020 (Archive)
Anti-Fascism March on Sunday adopted a new tactic based on local communities
The situation has gotten better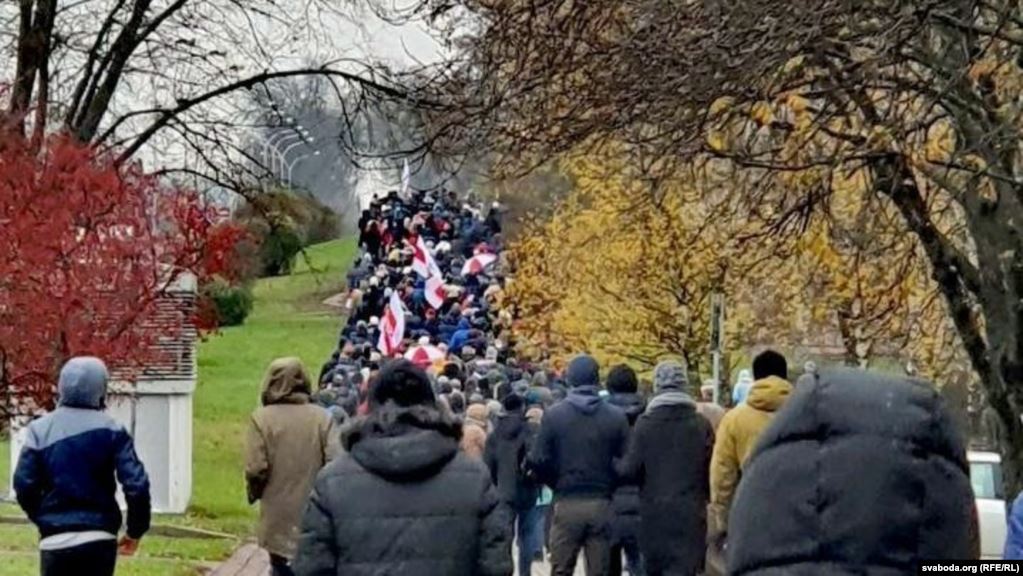 By Valeria Kostyugova
The Sunday rally branded as "A March Against Fascism" followed an altered tactic: 25 dispersed marches were held across Minsk alone preventing a concentration of opposing force. The authorities focused on repressing local communities throughout the week, but on Sunday, despite the use of special means, failed to effectively counteract the protesters.
Participants themselves have assessed several recent marches as 'ineffective.' On November 15 and partly on November 8, the protesters failed to merge into a huge column due to the security forces' tactics aimed at breaking larger crowds into smaller groups. As a result, security officers arrested more than 2,000 people. On November 15, protesters were surrounded in the Square of Changes and several hundred spent all night hiding from the security forces in people's apartments and basements.
Sviatlana Tsikhanouskaya, the Coordination Council and, most importantly, the participants in Sunday rallies agreed to change the tactics and discussed possible solutions throughout the week. The Golos platform announced a poll, to which over 200k voters responded, with the vast majority voting for dispersed marches. People also voted for shorter rallies.
The new tactic of Sunday rallies has proved successful: dispersed marches in residential areas gathered large crowds and resulted in fewer arrests. Except for the deserted centre cordoned off by security forces and barbed wire, Minsk residential areas were flooded with protesters, whilst the security forces lacked the staff to crack down on the participants. Moreover, in many cases, the protesters managed to fight off their arrests. On November 22, the Interior Ministry reported some 250 arrests.
Protest activity in other regions of Belarus has been increasing during recent weeks – rallies were held in other regional centres for two consecutive Sundays. Presumably, due to the concentration of security forces in Minsk and relaxed repression in the regions.
Last week, the authorities continued to intimidate protesters with violence and psychological abuse common occurrences during arrests and detentions. The "Novaya Borovaya" residential area had no tap water and heating for three days and council workers cleared all tributes to Raman Bandarenka, including those in the Square of Changes where he lived.
On the evening of November 15, security forces introduced passport control in the Square of Changes and went door-to-door hunting 'fugitive' protesters. Telegram channel administrators, journalists and doctors were arrested, including TUT.BY journalist Katerina Borisevich and an emergency hospital doctor, both charged with disclosing "medical information" about the lack of alcohol in Raman Bandarenka's blood at the time of his death.
Despite harsh repression, protesters continue to be inspired and motivated by mutual assistance and acts of solidarity. Several thousand people came to the Bandarenka's funeral. His mother disclosed the result of Raman's post-mortem examination, confirming the absence of alcohol. The "Novaya Borovaya" residents had so much water supplied by people from all over Minsk that the unused part was handed over to a hospice. Consistently and slowly, striking workers grow in number.
You have been successfully subscribed
Subscribe to our newsletter
Once a week, in coordination with a group of prominent Belarusian analysts, we provide analytical commentaries on the most topical and relevant issues, including the behind-the-scenes processes occurring in Belarus. These commentaries are available in Belarusian, Russian, and English.
EN
BE/RU
Situation in Belarus
September 25 – October 1