Belarus-West relations
The West labels Russia a strategic security threat, while the Belarusian regime swears allegiance to the Kremlin
The situation has not changed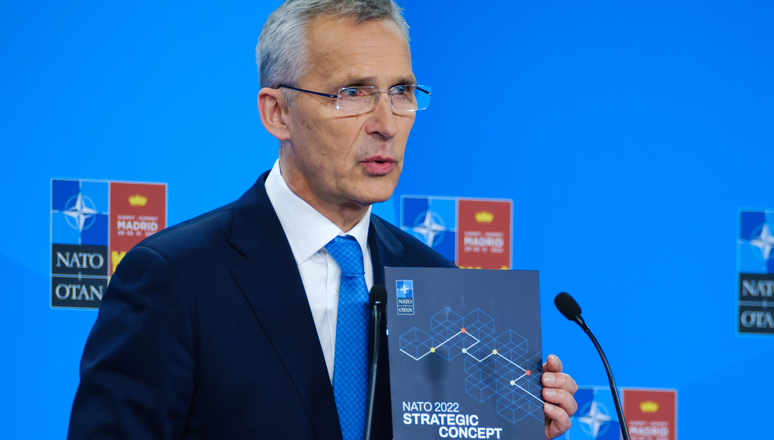 Image by NATO
The NATO summit in Madrid marked a new development in the Russian-Ukrainian conflict, designating Russia as a strategic security threat. Belarus is perceived as a military district of Russia, from which challenges and threats also emanate. In response, the Belarusian regime escalated its rhetoric, returning to nuclear blackmail.
NATO leaders at the Madrid Summit approved a new Strategic Concept that recognises Russia as a security threat. In response, NATO will increase its rapid reaction forces to 300,000 by 2023, and the US military presence in Europe will be strengthened. A permanent headquarters of the 5th Corps of the US Army will be established in Poland. The number of ships based in Spain will be increased, two squadrons of F-35s will be deployed to the UK, and the rotation of American forces in the Baltic states will continue. Additional air defence forces will appear in Germany and Italy. The North Atlantic Alliance also stressed the vital necessity of a strong and independent Ukraine for the stability and security of the Euro-Atlantic area.
Polish President Andrzej Duda called Belarus a "Russian military district". He believes that the presence of Russian troops in Belarus means that Belarus cannot be considered separately from Russia in military terms. However, the open participation of Belarus in the war against Ukraine is an unlikely scenario.
Allies have called on Belarus to end its complicity in Russia's war against Ukraine. G7 leaders expressed severe concern about Russia's intention to transfer nuclear-capable missiles to Belarus and unacceptable, ongoing nuclear rhetoric.
Reacting to the Madrid summit, the Ministry of Foreign Affairs of Belarus stated that inviting Finland and Sweden to join NATO is a strategic mistake as it undermines the principle of indivisibility of security and leads to the emergence of new dividing lines on the European continent and the growth of military-political tensions. The Belarusian Minister of Foreign Affairs, Uladzimir Makei, suggested that the border wall erected by Warsaw in response to the migration crisis provoked by Minsk constitutes the outlines and foundation of an "iron curtain" between Belarus and the West. However, he stressed his preference for diplomatic solutions to problematic issues.
Lukashenka tried to mitigate nuclear rhetoric during a meeting with Russian Foreign Minister Sergei Lavrov, clarifying that although Vladimir Putin spoke of providing Belarus with missiles with nuclear potential, there are no nuclear weapons depots in Belarus at present. He also attempted to convince the Russian minister that it would be unwise to incorporate Belarus into Russia.
Kremlin spokesman Dimitry Peskov also clarified Putin's announcement, stressing that he only discussed Iskander-M tactical missile systems, not providing Lukashenka with nuclear weapons.
However, during a speech at the Palace of Independence, Lukashenka announced the targeting of "decision-making centres" and threatened an "instant response" in the event of an attack on Belarus. Targets mentioned included Gomel, the Mazyr oil refinery, and the Łuniniec airfield in Brest. He also confirmed he had the right to demand nuclear weapons from Putin to protect the state border in the event of a foreign invasion.
Finally, Lukashenka stated that Belarus is Russia's only ally in the war with Ukraine and defined the role that Belarus plays in this aggression: Belarus guards the rear of the Russian military against a possible intervention by NATO.
As a result, due to its own rhetoric, the Belarusian regime will face not only new sanctions but also an increase in military pressure from the West due to the Kremlin's nuclear escalation scenarios.
You have been successfully subscribed
Subscribe to our newsletter
Once a week, in coordination with a group of leading Belarusian analysts, we provide analytical commentaries to the most topical and relevant issues, including on behind the scenes processes ongoing in Belarus, in Russian and English.
EN
RU
Situation in Belarus
May 22 – May 28