Belarus-West relations
The Quest for Belarus: Shaping a European Future Amidst Sanctions, Solidarity, and Security Concerns
The situation has gotten better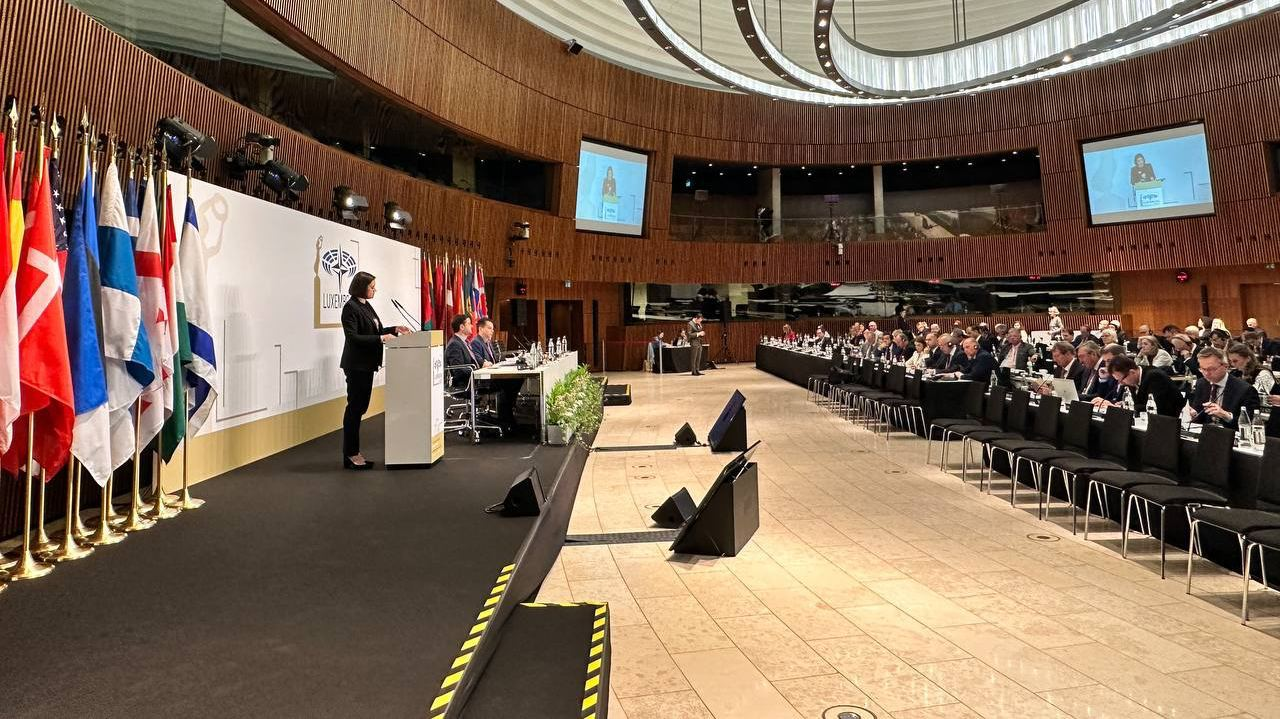 Выступ Святланы Ціханоўскай на пасяджэнні Парламенцкай асамблеі НАТА ў Люксембургу, 2023. Фота: https://tsikhanouskaya.org/be/events/news/a0af8745eac6930.html
Western countries and institutions are beginning to contemplate the European future of Belarus and its place within the European family in the post-war period, contingent upon Russia's defeat in the war with Ukraine. Belarusian democratic forces in exile are striving to influence the tightening of sanctions against Minsk amidst the discussion of a new package of Western restrictions against Russia and its aiding countries. The Day of Solidarity with Political Prisoners in Belarus (May 21) has drawn the attention of the West to their plight. Russia's intention to deploy nuclear weapons in Belarus is deemed unacceptable and dangerous by Western countries, although they still perceive this move as more rhetorical than a clear threat.
German Chancellor Olaf Scholz regards Russia's attack on Ukraine as a practical implementation of Russia's imperialist concept aimed at incorporating Ukraine and Belarus into its fold. Polish President Andrzej Duda, on the other hand, believes that the inclusion of a free Belarus in the European family should become a strategic priority for the Council of Europe.
Sviatlana Tsikhanouskaya, the Belarusian democratic leader, articulated her vision of how this could transpire during her speech at the spring session of the NATO Parliamentary Assembly in Luxembourg. Firstly, Russian troops must completely withdraw from Belarusian territory, and the agreements between Belarus and Russia must be declared invalid or revised. Secondly, Belarus should normalize its relations with neighboring countries and foster cooperation, particularly with Ukraine, Poland, and the Baltic countries. Furthermore, Belarus should enhance its cooperation with European institutions and EU member states, join the Council of Europe, devise a long-term strategy for cooperation with the EU, and implement reforms based on European experience. Thirdly, Belarus can become a partner of NATO and other organizations safeguarding security and peaceful cooperation in our region. However, the primary prerequisite for such a course of events is Russia's defeat, which would present Belarus with a historic opportunity to reintegrate into the European family.
Follow us on Twitter
Against the backdrop of Western countries preparing a new package of sanctions against Russia and its supporting countries, Tsikhanouskaya engaged in discussions regarding the tightening of sanctions with parliamentary delegations from Great Britain, Canada, Italy, Portugal, and Luxembourg. The parties also deliberated on holding A. Lukashenka accountable for crimes against humanity, the abduction of Ukrainian children, and his role in the war. Additionally, she held talks with Maria Pejčinović Burić, the Secretary General of the Council of Europe, concerning the tribunal for Lukashenka.
During the Copenhagen Summit for Democracy, Tsikhanouskaya called upon international organizations to demand the release of political prisoners by the Belarusian authorities. Following the Day of Solidarity with Political Prisoners in Belarus (May 21), the United States condemned the detention of over 1,500 prisoners held by the Lukashenka regime, urging for their immediate and unconditional release.
In turn, Poland proposed that the EU impose sanctions against the Belarusian authorities for their involvement in the abduction of Ukrainian children, intensify pressure on the Lukashenka regime, and advocate for the release of all political prisoners, including journalist Andrei Poczobut and Nobel Peace Prize laureate Ales Bialiatski.
Meanwhile, the US Treasury Department has imposed sanctions on 104 companies used by Russia to circumvent sanctions or acquire critical technology, as well as imposing sanctions on Russian financial services, architecture, construction, manufacturing, and transportation sectors. Several dozen individuals, including Belarusian citizen Yauhen Kostyuk, the owner of the Inter-Trans company registered in Poland, which supplies electronic components to the Ostec group of companies, and the owner of the German transport company Belmagistralavtotrans Speditions GmbH (BMA Spedition), have also been subjected to sanctions.
Subscribe to our weekly newsletter
Under pressure from the United States, Raiffeisen Bank International decided to withdraw from Russia and confirmed the closure of correspondent accounts for Belarusian banks, thereby rendering them unable to conduct transactions in US dollars and euros.
The leaders of the G7 countries denounced Russia's declaration of its intention to deploy nuclear weapons in Belarus as unacceptable and dangerous. The United Transitional Cabinet called for every effort to be made to dissuade Russia from deploying nuclear weapons in Belarus, as such a step would make it a target for other countries possessing nuclear weapons.
Simultaneously, the Permanent Representative of Belarus to the UN, Valentin Rybakov, stated during the debate among candidates for the position of non-permanent member of the UN Security Council for 2024-2025 that Russia has not yet deployed tactical nuclear weapons in Belarus and purportedly no practical measures have been taken in this regard.
You have been successfully subscribed
Subscribe to our newsletter
Once a week, in coordination with a group of leading Belarusian analysts, we provide analytical commentaries to the most topical and relevant issues, including on behind the scenes processes ongoing in Belarus, in Russian and English.
EN
RU
Situation in Belarus
May 22 – May 28