Belarus-West relations
The "Passport Decree" raises concerns in the West and prompts further criticism of the regime
The situation got worse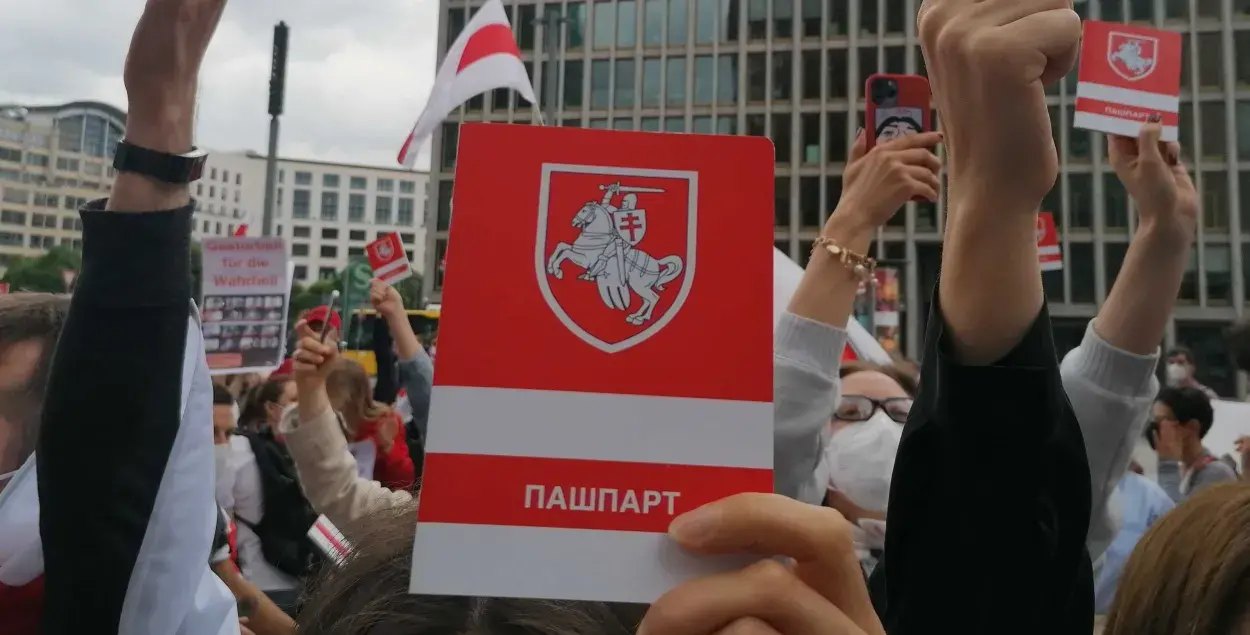 Фото: Белсат
The "passport decree" not only complicates the lives of Belarusians who were forced to leave Belarus for security reasons but also serves as a form of repression. As anticipated, this move by the regime has garnered significant criticism and condemnation from Western nations. It has also raised questions about the recognition of the new Belarusian national passport developed by the Joint Transitional Cabinet. While the international prospects for recognition remain uncertain, the West has not overlooked other grievances against the regime, notably its involvement in the deportation of Ukrainian children from territories occupied by Russia.
Lukashenka signed Decree No. 278, titled "On the Procedure for Issuing Documents and Conducting Actions". This decree requires individuals to personally engage with relevant authorities in Belarus or utilize a power of attorney executed within the country to handle tasks such as selling real estate or exchanging passports. The objective behind this decree, as set by its creators, is to make life as challenging as possible for Belarusians who had to leave their homeland due to security concerns.
This can be seen as a form of retaliation against those who left and, possibly, an attempt to entice them back into the country to address property and documentation matters, possibly leading to criminal charges against them. Additionally, the return commission established by the regime has gone largely unused, prompting alternative methods to compel returnees.
The European Commission views the Belarusian authorities' decision not to issue passports through embassies as a disregard for citizens' rights and an attempt to coerce Belarusians to return. This is part of a series of actions by the illegitimate regime against Belarusians who fled abroad due to repression and threats in Belarus, evidently aimed at forcing their return, possibly for further persecution.
The German Foreign Ministry has condemned Lukashenka's decree prohibiting passport exchanges through Belarusian embassies, noting that depriving citizens of consular support abroad goes against international law.
The Office of the UN High Commissioner for Human Rights has been called upon to reconsider the Belarusian authorities' decision not to issue passports through embassies, as it violates the rights of thousands of Belarusians living in exile, including their freedom of movement.
The publication of this decree to some extent legitimizes the idea of creating a national passport. Currently, such a passport is a vital necessity for tens of thousands of Belarusian citizens, and it may become even more crucial in the future. Nevertheless, the prospects for the recognition of a new Belarusian national passport remain uncertain, primarily because it is unclear which countries will recognize it, when this recognition might occur, or if it will be recognized at all.
Meanwhile, Ukraine continues to investigate Belarus' alleged role in the forced transfer of children from Russian-occupied territories. The office of the Verkhovna Rada Commissioner for Human Rights, Dmitry Lubinets, possesses information about numerous locations in Belarus where Ukrainian children are being held. Previously, the National Anti-Crisis Management (NAU) initiated efforts to gather evidence implicating representatives of the Lukashenka regime in the removal of children from Russian-occupied areas of Ukraine. This evidence could enable the International Criminal Court to issue an arrest warrant for Lukashenka, similar to the case of Putin, who is suspected of involvement in the illegal deportation of children from Ukraine to Russia.
Additionally, the International Federation of Red Cross and Red Crescent Societies (IFRC) has recommended that Dmitry Shevtsov, the controversial Secretary General of the Belarusian Red Cross (BRC), retire pending an investigation (until October 3, 2023). This investigation is related to his July trip to the Russian-occupied territory of Ukraine, during which he was seen wearing clothing featuring symbols associated with the occupiers. It has also been alleged that BRC was involved in the transfer of Ukrainian children to Belarus. Recently, cyber activists hacked the BRC website and gained access to internal documents, revealing information about the transportation of Ukrainian children to Belarus and the funds allocated for them. However, the Extraordinary Congress of the BRC retained Shevtsov in his position, signaling a lack of accountability and expectations for change in the organization's activities.
You have been successfully subscribed
Subscribe to our newsletter
Once a week, in coordination with a group of prominent Belarusian analysts, we provide analytical commentaries on the most topical and relevant issues, including the behind-the-scenes processes occurring in Belarus. These commentaries are available in Belarusian, Russian, and English.
EN
BE/RU
Situation in Belarus
September 25 – October 1