Belarus-West relations
The West condemns deploying nuclear weapons to Belarus and prepares for new sanctions
The situation has not changed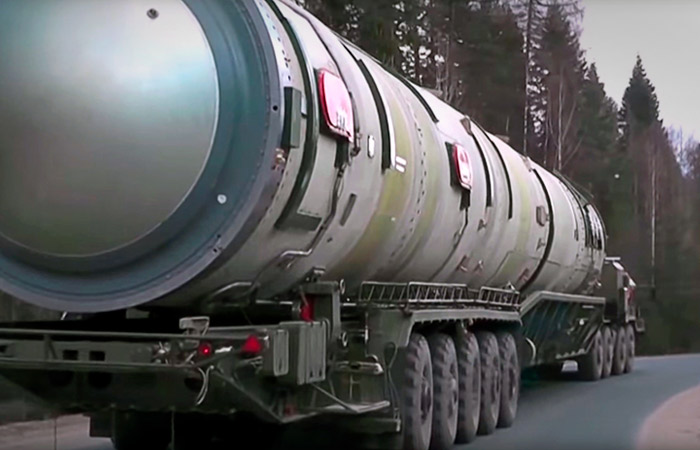 Здымак мае ілюстрацыйны характар. Стратэгічная ядравая ракета паветрана-касмічных сілаў Расеі. Фота: Пресс-служба Минобороны РФ
Western countries are discussing further sanctions against Russia in response to deploying nuclear weapons in Belarus. Since new sanctions will inevitably ban additional exports and transhipments from Russia and close loopholes, Belarus will be impacted because it is actively involved in circumvention schemes.
In a statement following the G7 meeting in Japan, foreign ministers called the deployment of Russian nuclear weapons in Belarus unacceptable and expressed their commitment to further sanctions and also reaffirmed their desire to coordinate action to prevent the supply of weapons to the Russian Federation by third countries. The G7 will also continue to act against those who materially support Russian aggression. Russian assets in G7 countries will be frozen until the end of the conflict, and any settlement should guarantee compensation for the damage caused by Russia. The ministers also supported further study of creating a special international tribunal to investigate Russian crimes in Ukraine.
The G7 is also discussing an inversion of the current sanctions strategy. Instead of prohibiting specified exports to Russia, all exports would be banned, with specific exceptions for medical supplies and agricultural products, including food. Such a change will inevitably impact Belarus as well.
Existing sanctions have already halved exports from the EU and G7 countries to Russia, but Europe, the United States, Canada, and Japan still export goods worth USD 66 billion.
The European Commission announced the imminent introduction of the 11th package of sanctions against Russia, which may include a ban on nuclear energy and the transhipment of many goods through Russia. The ban would extend to numerous technologies, including vehicles, closing loopholes, and disrupting circumvention schemes, which will also affect Belarus.
Poland is the primary advocate for tightening sanctions against Belarus and synchronising them with restrictions on Russia. Polish Defence Minister Mariusz Blaszczak believes that pressure on the Belarusian regime should be increased because of
support for Moscow and complicity in Russian aggression against Ukraine.
participation in a hybrid (migration) attack on Poland and the Baltic countries, organised by Moscow as a prelude to aggression against Ukraine".
Kremlin plans to deploy nuclear weapons in Belarus.
So far, the Belarusian regime has had some success in minimising the negative impact of economic sanctions, facilitated by various schemes and loopholes and support from representatives of the Catholic Church in Belarus and Hungary to return some Belarusian goods to the EU market. Turkey has also helped Belarus circumvent international sanctions by reselling Belarusian goods.
You have been successfully subscribed
Subscribe to our newsletter
Once a week, in coordination with a group of prominent Belarusian analysts, we provide analytical commentaries on the most topical and relevant issues, including the behind-the-scenes processes occurring in Belarus. These commentaries are available in Belarusian, Russian, and English.
EN
BE/RU
Situation in Belarus
November 20 – November 26