The ruling elite
Глава государства снес кресты на могилах жертв советских репрессий, другие поручения президента не выполняются
The situation got worse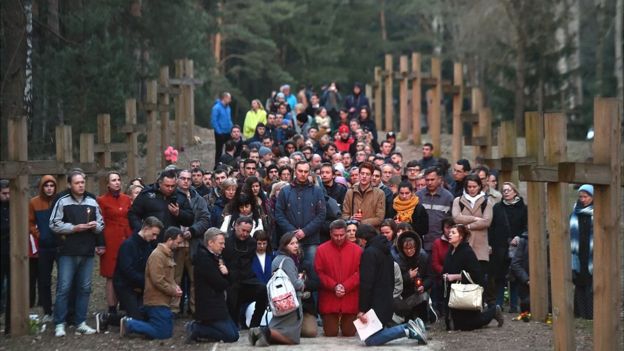 Конфликт вокруг мемориала Куропаты, на фоне неспособности вертикали исполнять поручения президента, продемонстрировал уязвимость системы управления страной в обеспечении безопасности, и отразился на взаимоотношениях с Западом (см. соответствующие сюжеты). При этом высшее руководство не в силах добиться хотя бы минимального продвижения в управлении государственным сектором, инвестициями и торговле с Россией.
Лукашенко поручил благоустроить мемориал жертвам сталинских репрессий Куропаты и снести кресты во время Большого разговора: «Поэтому, приведем в порядок Куропаты, чтобы этого там не было и чтобы демонстраций вот с этими крестами по периметру тоже не было». Это поручение было исполнено самым прямым образом: кресты снесли ранним утром 4 апреля, не посчитавшись с чувствами христиан во время Крестопоклонной недели, втайне, спрятав номера грузовых машин и не подавая никаких объяснений, без согласования с Министерством культуры, в ведомстве которого находится охрана историко-культурной зоны. Пресс-секретарь президента Эйсмонт дала пояснения только после того, как в социальных сетях, независимых и зарубежных медиа появились фото и видео техники, волокущей по земле кресты, а социальные сети, несколько депутатов Палаты представителей Национального собрания и представители церквей осудили этот шаг властей. Активистов, пытавшихся протестовать, власти задержали.
В итоге, поручение главы государства, задумывавшееся, судя по его словам и объяснению Эйсмонт, как примиренческий жест, демонстрирующий его чуткость к общественным запросам, был воспринят как акт вандализма, оскорбляющий чувства общественности и христиан. И медиа, и общественность отметили слабости системы принятия решений, проявившиеся в истории с Куропатами.
Этот кейс получает особенную наглядность на фоне систематического неисполнения поручений Лукашенко по экономической политике. Это касается и результатов модернизации отдельных предприятий и целых отраслей (деревообработки, цементные заводы, льнопроизводство), в результате которой растрата государственных средсв не дает экономического эффекта, это касается и постоянных проблем с эффективностью сельского хозяйства, работой сахарной отрасли, привлечением инвестиций, созданием рабочих мест. Поручения Лукашенко эффективно исполняются в случаях необходимости смены не справившихся с поручениями кадров и организации культурно-развлекательных инициатив.
You have been successfully subscribed
Subscribe to our newsletter
Once a week, in coordination with a group of leading Belarusian analysts, we provide analytical commentaries to the most topical and relevant issues, including on behind the scenes processes ongoing in Belarus, in Russian and English.
EN
RU
Situation in Belarus
May 22 – May 28