Society and political parties
Democrats isolate the regime in international relations; the Coordination Council is trying to increase its influence in the democratic movement
The situation has not changed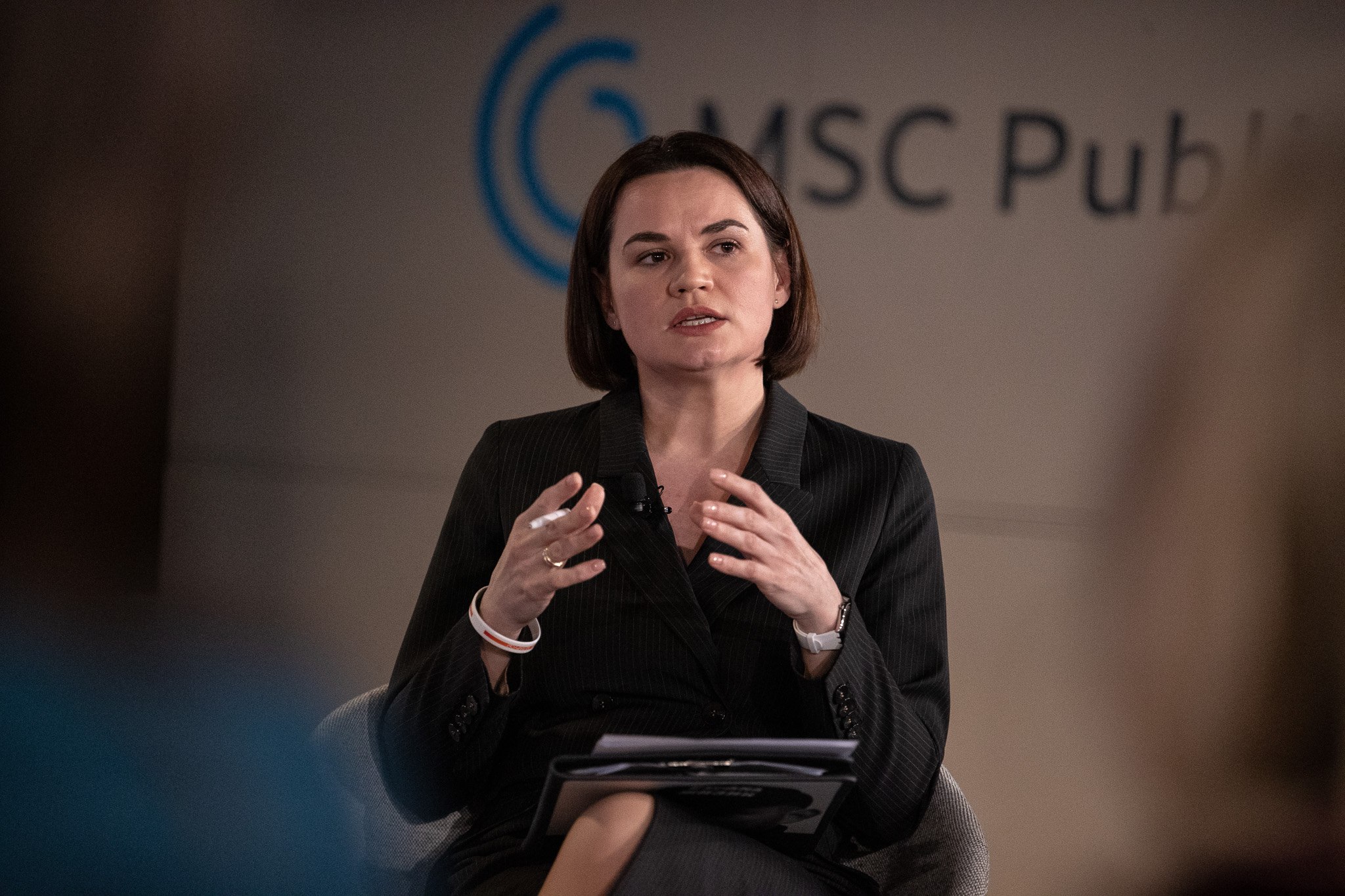 Светлана Тихановская на Мюнхенской конференции по безопасности 17 февраля 2023 года. Фото: t.me/tsikhanouskaya
Democratic representatives maintain high-level contacts in Western capitals, increase their international recognition and cooperation with Western partners, and maintain their influence on relations with the Lukashenka regime.
Sviatlana Tsikhanouskaya spoke at the Munich Security Conference, then met with German Chancellor Olaf Scholz and representatives of other European countries and EU institutions. The leader of democratic Belarus emphasised the need to create an international coalition to support an independent Belarus and to strengthen the international legitimacy of the democratic movement.
The ByPOL organisation of Belarusian ex-security forces members work with Interpol to screen all requests the Belarusian regime sends. The United Transitional Cabinet (UTC) is working with international partners to prevent the Lukashenka regime from being elected to the UN Security Council.
The Senate of the Czech Republic called on the government to designate the KGB and GUBAZIK as organisations supporting terrorism.
Tsikhanouskaya's cabinet continues strengthening its international position and aims to progressively substitute the services and guarantees denied to political exiles by the Lukashenka regime. The representative of the UTC for International Affairs, Valery Kavaleuski, stated that the Cabinet could start issuing alternative passports for Belarusians this year. Meanwhile, Tsikhanouskaya discussed the status of "New Belarus" passports with the head of the European Commission.
Democratic activists draw the attention of pan-European institutions to the state of civil society in Belarus. The European Parliament discussed political prisoners, sanctions and the Hungarian foreign minister's visit to Minsk.
The UTC supported the Polish authorities' decision to close the Babroŭniki-Bierastavica border crossing; however, the sanctions stance of democrats is at variance with the opinion of a significant part of Belarusian society, which does not support the expansion of sanctions or the reduction of contacts of ordinary Belarusians with other Europeans.
The UTC continues to attract media attention with questionable initiatives, this time in connection with the "Honour and Dignity" medal approved by the Cabinet.
The renewed Coordination Council is attempting to increase its influence and role in the democratic movement and developing a joint position with the Tsikhanouskaya Cabinet.
The Belarusian democratic movement suffered another setback following statements by the representative of the Office of the President of Ukraine about cooperation. However, Tsikhanouskaya's Cabinet continues to try to establish contacts with the Ukrainian authorities.
Democratic forces will continue to aid political migrants and relocated businesses; however, their impact on the Belarusian domestic agenda remains limited due to continuous repression and restrictions.
You have been successfully subscribed
Subscribe to our newsletter
Once a week, in coordination with a group of prominent Belarusian analysts, we provide analytical commentaries on the most topical and relevant issues, including the behind-the-scenes processes occurring in Belarus. These commentaries are available in Belarusian, Russian, and English.
EN
BE/RU
Situation in Belarus
September 25 – October 1