War in Ukraine: a look into the future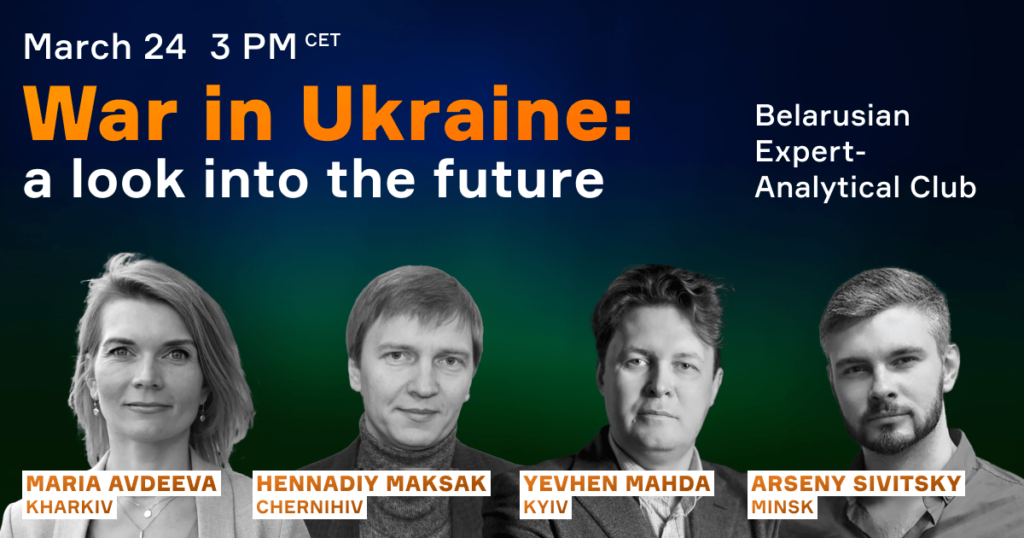 Date and time
March 24th, 5 PM (Minsk, GMT+3)
4 PM (Kyiv, Vilnius, GMT+2)
3 PM CET
Background
Today's open questions include:
What should Ukraine expect in the upcoming months?
How is the war in Ukraine going to affect the situation in Belarus?
What are the lessons learned for the international security system?
Speakers:
Maria Avdeeva (Kharkiv), Research Director at the European Expert Association
Hennadiy Maksak (Chernihiv), Chief of the board at Ukrainian Prism, head of the community board under the Ministry of Foreign Affairs of Ukraine
Yevhen Mahda (Kyiv), Executive Director at the Institute of World Policy
Arseny Sivitsky (Minsk), Co-Founder and Director of Minsk-based Center for Strategic and Foreign Policy Studies
Moderators:
Vadim Mojeiko (BISS)
Anton Ruliou (Belarus in Focus Information Office/Press Club Belarus)
Working languages:
Belarusian, Ukrainian, Russian with interpretation to English
How to participate (please note that you will not be able to join the meeting after it starts):
To join the online discussion, please fill out the Google Form (https://forms.gle/FZ1EkoQwoxEbGqDP8)
2. In response, you will receive a link inviting you to join a Zoom meeting (if you do not have Zoom, you may install it on your PC, phone or tablet following the same link. It is free and easy).
Organizers:
• Belarus in Focus Information Office
• Press Club Belarus
• Nashe Mnenie
• Belarusian Institute for Strategic Studies (BISS)