Belarus-West relations
The West's efforts to persuade Lukashenka not to expand participation in the war against Ukraine were unsuccessful
The situation got worse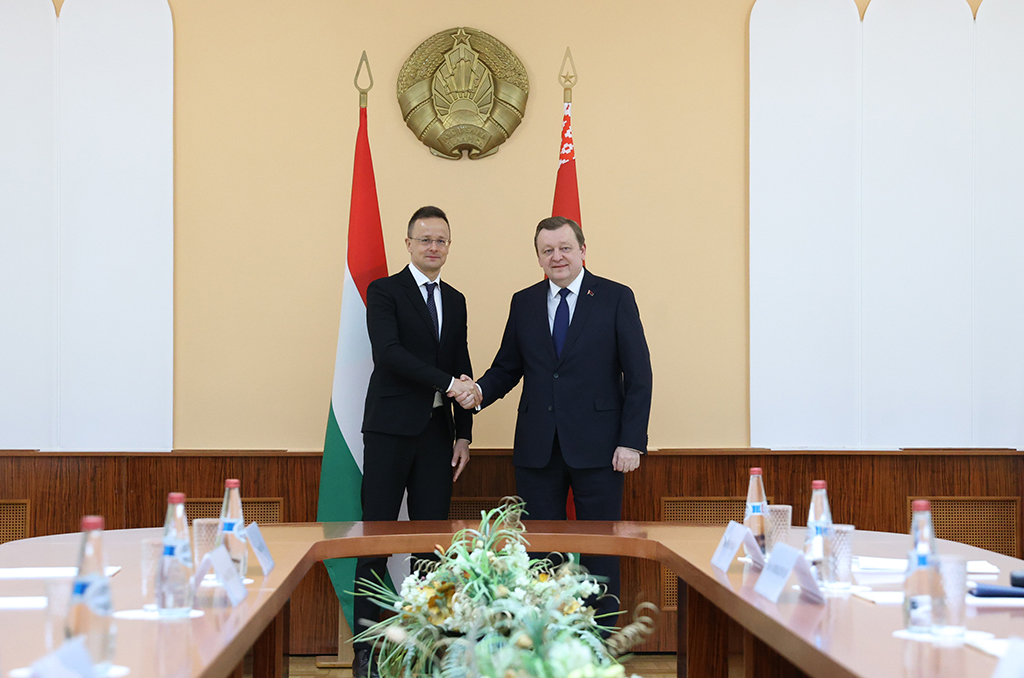 Фото: https://mfa.gov.by/press/news_mfa/b85b51d588d8ee73.html
As Russia prepares a new offensive against Ukraine, the head of the Hungarian Foreign Ministry came to Minsk to warn of the negative consequences of Belarusian participation in the war. In response, Lukashenka confirmed his readiness to increase participation and continued his game of escalation with the West. Meanwhile, Sviatlana Tsikhanouskaya chose the Munich Security Conference to present her geopolitical agenda in the context of the war and after democratic reforms.
On February 13th, the Minister of Foreign Affairs and Foreign Economic Relations of Hungary, Peter Szijjarto, visited Minsk for talks with his Belarusian counterpart, Sergei Aleinik. The official purpose of the visit was the signing of a 2023 cooperation programme between the foreign ministries of Hungary and Belarus, providing for a continuation of the inter-MFA dialogue and a set of measures to stimulate economic cooperation, educational and cultural exchanges within "a very narrow corridor of opportunities in terms of cooperation." The visit came amid preparations for a new package of sanctions against Belarus, which has been suspended to consider proposed exemptions for Belarusian fertilisers. In particular, there are proposals to lift sanctions against Belaruskali CEO Ivan Golovaty and Russian businessman Mikhail Gutseriev.
Given the special position of Hungary regarding the Russian-Ukrainian war, some observers speculate that an additional, informal goal was to initiate indirect negotiations with the Kremlin and form a pro-Russian coalition advocating the immediate suspension of hostilities, freezing the conflict. On this, the positions of Minsk and Budapest are aligned. The Belarusian regime interpreted Szijjarto's visit as a signal to European countries to continue to engage with Belarus.
However, Szijjarto stressed that he asked Belarus to refrain from actions that could prolong or expand the war. He dismissed suggestions that Budapest was using Minsk as a communication channel with Moscow. NATO Secretary General Jens Stoltenberg called on Belarus to cease complicity in the war against Ukraine.
However, this does not appear to align with regime plans. Lukashenka stated that he was prepared to continue to allow Russia to use Belarus as a springboard for aggression against Ukraine and ready to wage war alongside Russia if attacked by Ukraine. Lukashenka still believes that with the world's largest nuclear arsenal, Russia cannot lose this war. He also referred to nuclear weapons in Belarus and obliquely hinted at the possibility of the Belarusian armed forces using tactical nuclear weapons carried by recently converted aircraft.
Conflict with Poland continued. Following a harsh sentence imposed on Andrzej Poczobut, Poland closed the "Babroŭniki" ("Bierastavica") border checkpoint. The Belarusian Foreign Ministry then retaliated by reducing the staff of the Polish consulate in Hrodna, expelling a Border Guard liaison officer, and restricting entry of Polish registered vehicles. Trucks and tractors registered in Poland will henceforth only be permitted to cross via the Belarusian -Polish border. Polish President, Andrzej Duda, promised a harsh response to Belarusian escalation.
On February 16th Lithuania closed Stasilai/Beniakoni railway border crossing citing an increased threat to national. The movement of freight trains arriving in Lithuania from Belarus will continue through the Kena railway border checkpoint.
Meanwhile, the leader of the democratic forces in exile, Sviatlana Tsikhanouskaya, presented at the Munich Security Conference a geopolitical plan to take effect after democratic reforms in Belarus. Specific measures include:
·         withdrawal from the Union State and the CSTO.
·         normalisation of relations with neighbours.
·         expanded cooperation with European institutions and EU member states.
·         developing a long-term strategy for cooperation with the EU.
Tsikhanouskaya, Ursula von der Leyen, the Head of the European Commission, and Olaf Scholz, the German Chancellor, discussed the creation of an international coalition to prevent an independent Belarus from being absorbed by Russia and a strategy to defend Belarusian independence. Tsikhanouskaya asked Germany to become one of the leaders of such a coalition and act as a guarantor to ensure a peaceful transition from dictatorship, the withdrawal of Russian troops, and the development of a plan for the restoration of Belarus. In addition, she stated that the region's security depends on Belarus and called for Russia's creeping hybrid occupation of Belarus to be stopped.
On the eve of a new Russian offensive, Lukashenka again demonstrated his loyalty to the Kremlin. If the West earlier had illusions about distancing the Belarusian regime from the war, there is now practically nothing left to support them.
You have been successfully subscribed
Subscribe to our newsletter
Once a week, in coordination with a group of prominent Belarusian analysts, we provide analytical commentaries on the most topical and relevant issues, including the behind-the-scenes processes occurring in Belarus. These commentaries are available in Belarusian, Russian, and English.
EN
BE/RU
Situation in Belarus
September 25 – October 1