Belarus-Russia relations
The possible rise of a dualistic world
The situation has not changed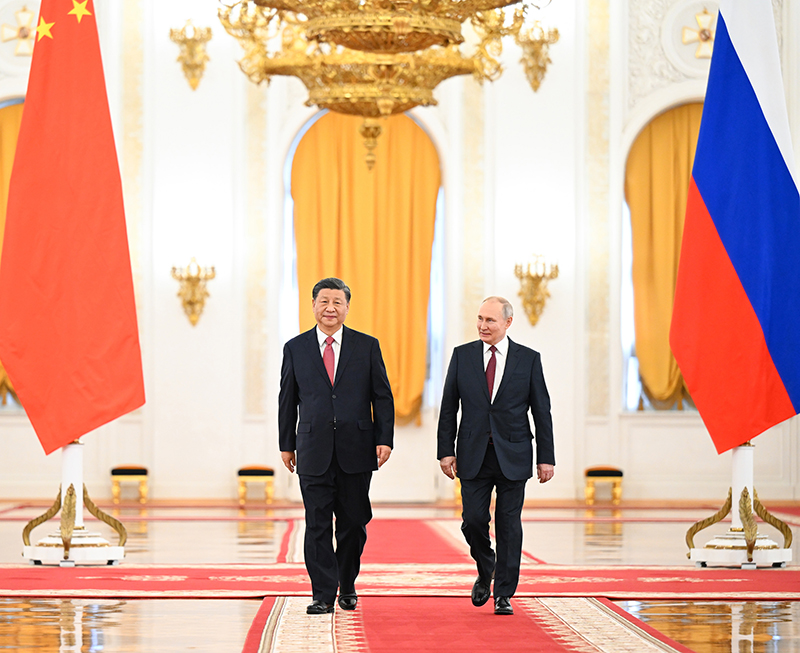 Image: http://www.gov.cn/xinwen/2023-03/22/content_5747723.htm
A week of great diplomacy has passed. Putin met with the head of the Peoples Republic of China while Ukrainian President Zelensky met with the Prime Minister of Japan, and Lukashenka visited the head of a Russian region. Instead of a multipolar world, which representatives of the Belarusian and Russian leadership liked to advocate (one of the basic structures of the "Putin plan"), a world dualistic structure begins to form.
On March 22nd, the two-day Moscow visit of the General Secretary of the Communist Party of China, Xi Jinping, ended on an ambiguous note. The event was greeted with enthusiasm by Russian officialdom ("an event of historic proportions"), irritation on the part of the West, and scepticism from independent analysts. The overall results are as follows:
No concrete agreements have been reached on ending the war in Ukraine – or it may be too early to talk about them.
Agreements in military-technical cooperation (if any) were not announced.
Agreements in economic cooperation do not change the increasing asymmetry of Russian-Chinese relations, particularly in light of sanctions against Moscow. Analysts see Russia as a raw material appendage of China.
According to Russian statements about agreements concluded, the Russian Federation is ready to supply China with cheap energy resources, timber, agricultural products, and so on, and, if necessary, switch to using the Chinese yuan in mutual settlements. China, in turn, expressed readiness to increase supplies of "import substitution components", even though, in several areas, these supplies approach saturation. The market share of Chinese smartphones in Russia reached 75% in 2022, against 50% a year earlier. Construction equipment rose to 70% against 40% in 2021, laptops to 40%, and 11 of the 14 car brands remaining on the Russian market are Chinese.
Meanwhile, Ukrainian President Volodymyr Zelensky met with Japanese Prime Minister Fumio Kishida and signed a joint statement on global partnership. Mr Kishida, who was the only G7 head who had not previously met personally with Zelensky, arrived in Kyiv unannounced on March 21st. The visit, which included Bucha, provoked an angry reaction from the Kremlin, which, in the words of a well-known Russian propagandist, "lost its bearings."
These events gave additional impetus to speculation about forming two global, hostile alliances. For the Lukashenka regime, this is not the best news because (purely theoretically) the scheme of "geopolitical pivots" breaks down, and Minsk loses its special role in shaping relations with countries of the "far arc". The new scheme makes the hierarchy clear: Beijing – Moscow – Minsk. The good news for Lukashenka is that he will not be directly subordinate to Xi because the rule "a vassal of my vassal is not my vassal" probably applies in this case.
Meanwhile, Minsk again turned to "intensifying cooperation with Russian regions", with Lukashenka visiting Batu Khasikov, the head of the Republic of Kalmykia. This did not arouse media interest. It will be difficult for Lukashenka to trump Putin's "Xi card" unless he manages to involve the leadership of India, Brazil, or Mexico.
You have been successfully subscribed
Subscribe to our newsletter
Once a week, in coordination with a group of leading Belarusian analysts, we provide analytical commentaries to the most topical and relevant issues, including on behind the scenes processes ongoing in Belarus, in Russian and English.
EN
RU
Situation in Belarus
May 22 – May 28