Belarus-Russia relations
Consistent blackmail policy
The situation got worse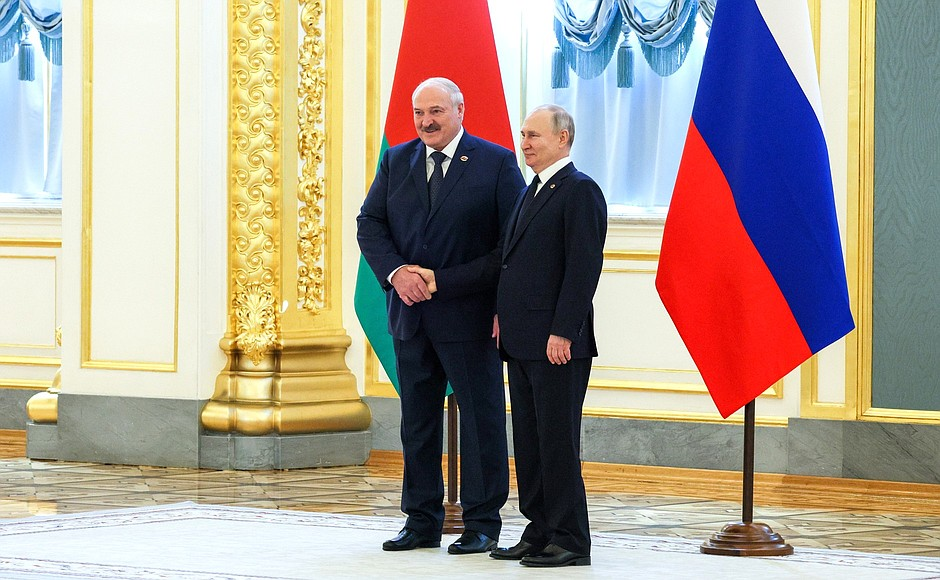 Image: kremlin.ru
Under the pretext of security, the Belarusian regime has further undermined the independence and sovereignty of the country. Putin announced an updated security strategy for the Union State, while Lukashenka proposed the creation of a Belarusian-Russian media holding. 
The nominal leaders of Belarus and Russia, Lukashenka and Putin, met once again, holding a one-to-one meeting on April 5th before the Supreme State Council of the Union State meeting on April 6th. Matters discussed included the economy, security, and humanitarian issues. According to Putin, about 74% of the measures provided by the 28 previously agreed integration programs have been implemented. 
It should be noted that there were far fewer bravura statements in the spirit of "we are better off due to sanctions", and the problems of the war in Ukraine went mostly unmentioned (transferred to the face-to-face discussions). 
The general political context of Lukashenka's second visit to Russia this year is interesting. Immediately beforehand, the top leadership of the two countries made several contradictory statements about deploying nuclear weapons to Belarus. The announcements differed over the timing of the infrastructure preparation and the control and potential scenarios for use. Thus, logically, Lukashenka and Putin discussed an agreed blackmail format. Preliminary agreements in this regard are likely to have been reached. 
During the Joint Forces of the Union State meeting, Putin announced that Moscow and Minsk have already begun to develop a common security strategy, to be adopted in 2024. Consequently, revisions will be required to the draft of the new National Security Concept approved by the Security Council of Belarus on April 4th. On the same day, Russian foreign intelligence service director Sergei Naryshkin visited Minsk, presenting Lukashenka with an imposing list, ensuring that the latter could no longer refuse Russia's services in the field of security. 
On April 8th, the Belarusian Ambassador to Russia, Dzmitry Kruty, confirmed that the heads of state discussed security topics (including the nuclear component) and that "Belarus should have 100% security guarantees in the event of an attack on our territory". No one other than Russia can provide such guarantees in the current situation; consequently, the Belarusian regime has further undermined the independence and sovereignty of the country. 
During the meeting, Lukashenka proposed creating a Belarusian-Russian media holding in order "not to lose the battle for the hearts and minds of our citizens on the print, television, radio and digital battlefields." Effectively, he called for increasing the amount of Russian content in the Belarusian information sphere, which it already wholly dominates. 
You have been successfully subscribed
Subscribe to our newsletter
Once a week, in coordination with a group of leading Belarusian analysts, we provide analytical commentaries to the most topical and relevant issues, including on behind the scenes processes ongoing in Belarus, in Russian and English.
EN
RU
Situation in Belarus
May 22 – May 28